Polish armoured train Nr.14 ("Paderewski")
---
Early history - Combat use in 1939 - Description
---
Note: W marks external links to Wikipedia articles.
Early history:
The earliest stock of the "Paderewski". Visible are: an artillery wagon, an assault wagon with an observation turret and a 178 series locomotive (178.111?). [6]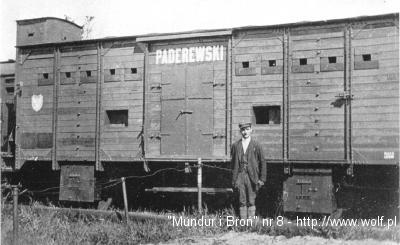 An early concrete-protected wooden assault wagon of the "Paderewski", 17 September 1919. [5]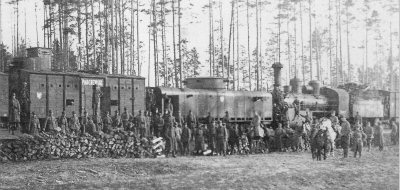 "Paderewski" in March 1920, with a broad-gauge O class locomotive and new artillery wagon with a central turret, built of vertical armour strips (later rebuilt to an assault wagon, used in Nr.54 train).
"Paderewski" in Mińsk Mazowiecki, August 1920, with the new stock. On the left is a "semi-barrel" wagon built in Warsaw, most likely an assault one, armed with 7.92 mm MG-08 MGs. The train has an armoured tank locomotive series 229. On the right, the artillery wagon with a central turret. [6]
Polish-Soviet war
Polish armoured train "Paderewski" was created on 10 September 1919 in railway workshops in Lwów (Lviv) W, as the third train built there (after PP.3 "Lis-Kula" and PP.10 "Pionier"). It was assigned number 15 (P.P. 15 - Pociąg pancerny - Armoured Train nr. 15, after a disbanded train PP.15 "Groźny"). It was named in Warsaw, in a presence of its namesake, Polish prime minister Ignacy Paderewski, who gave the crew a commemorative gorget. The train's composition in the early years was variable. At first, it consisted mainly of improvised armoured wagons, converted from wooden freight box wagons.
Ignacy Paderewski W (1860-1941) was Polish pianist, composer and politician (Prime Minister in 1919-20) - one of the "fathers" of independent Poland.
According to different sources, it consisted initially of two locomotives, three artillery wagons, one assault (MG and personnel) wagon and three flatcars[3] or two locomotives, two artillery wagons, four assault wagons and two flatcars[7]. Probably one locomotive was auxiliary, and a part of the train could be detached. Assault wagons were ordinary wooden freight box cars, probably protected with a concrete from inside, fitted with loopholes for heavy machine guns and rifles. At least one artillery wagon (pictured) had a rotating 75-80 mm cannon at one end, covered with steel plates in a form of a turret. Its walls were also covered by steel plates. The other artillery wagon(s) could be of the same type or could be ordinary box cars with casemate guns mounted with a limited arc of fire. The locomotives were series 178 tank locomotives, armoured in Lwów with 10-15mm plates. "Paderewski" used locomotives numbers 178.95 and 178.111 (it isn't known, if at the same time) (photo 178.95, photo 2).
"Paderewski" entered into operation on 29 September 1919. Its commandeer until March 1920 was Lt. Włodzimierz Abłamowicz, then Lt. Jan Lissan, a deputy was Lt. Rojewski. During Polish-Soviet war, in late 1919 - early 1920, "Paderewski" fought in armies of the Lithuanian-Belarussian Front. In January 1920 it patrolled Polish-Lithuanian demarcation line, skirmishing with Lithuanian units crossing the line. Then the train operated in Polesie W region in Belorussia. To support Polish units farther east, on 23 March 1920, the train was temporarily switched to a broad gauge 1524 mm, using universal axles developed by engineer Adam Marie. It received a captured armoured locomotive O class then. It took part in action at Kalinkavichy W and Mazyr W and supported Polish infantry at the Slavechna river and Shacilky (Svietlahorsk) W. In the summer of 1920, the train had to cover a retreat of the Polish forces. Afterwards, it was fitted with new armoured stock of 'Warsaw' type. "Paderewski" had three artillery wagons and two assault wagons then[4]. These wagons were more advanced, than the initial ones, built of steel plates and rounded stripes (more on this type on "Bartosz Glowacki" train's page).
In August 1920, "Paderewski" fought in a battle of Warsaw W within Polish 1st Army's armoured train unit (along with trains "Danuta" and "Mściciel"). It operated first in area around Wołomin W. A Soviet commander reported on a combat at Lesniakowizna village: "...despite falling darkness, armoured trains were still running on the line, causing losses to Red artillery regiments, without any break". On 17 August 1920 the three armoured trains took part in a surprise attack to capture Mińsk Mazowiecki W, in cooperation with cavalry and tanks. The group's commander Maj. Mieczysław S. Nowicki was in "Paderewski". On 18 August the train patrolled and fought against a Soviet unit numbering 860 men, who surrendered. After that, "Paderewski" was assigned to the 5th Army, with Maj. Nowicki's group, operating from 20 August on Ciechanów-Mława direction. Then it was assigned to the 2nd Army, in which it fought in the battle of the Niemen river W.
After Polish-Soviet war, in October 1920 "Paderewski" was used in an offensive to capture Lithuanian city of Wilno (Vilnius). Officially it was a self-willed action ("Żeligowski's mutiny") W of Gen. Lucjan Żeligowski's task force, though in fact he was inspired by the Polish authorities to capture this Polish-inhabited city. As a result, a new country, Central Lithuania W with a capital in Wilno, was created under Polish protectorate for some time. It was incorporated into Poland later. In order to delude Inter-Allied Committee, on 20 October 1920 the "mutinied" train was renamed to: "General Żeligowski", and served in forces of Central Lithuania. In August 1921 it was renamed back.
---
Peacetime service 1921-1939
During Polish-Soviet war, the Poles captured several Soviet armoured trains, with modern and powerful twin-turret wagons. After the war, in the 1920s "Paderewski" received two similar twin-turret four-axle artillery wagons, but their background is not sure, also the exact date of change is not known. Probably they were of the Soviet origin, but rebuilt in Poland.
After the war, in 1921, "Paderewski" was assigned for further service, among 12 most modern trains. It was given a number 7 (P.P. 7). In the winter of 1923/24 most of Polish armoured trains were demobilized and stored, among them was also "Paderewski". In 1925 however it was brought back to service and assigned to Armoured Trains Training Detachment in Jablonna near Warsaw (already consisting of "Danuta" and "Generał Sosnkowski"). In October 1927 the Training Battalion was reformed to the 1st Armoured Train Detachment (dywizjon pociągów pancernych) in Legionowo and Jabłonna, near Warsaw. Later, in the thirties, the train was apparently put into a "mob" (mobilization) reserve.
The final composition of Polish armoured trains was established in 1929. In the early thirties "Paderewski" and its wagons underwent a modernization. The locomotive was changed to the standard type Ti3. The train's armament was standardized (100mm wz.14/19P howitzers, 75mm wz.02/26 guns and wz.08 MG's) and AA machine guns were added. The train also received radio and signal equipment then.
In August-September 1939, during the mobilization, the 1st Armoured Train Detachment mobilized five trains, and among them armoured train Nr. 14 - former "Paderewski" (the names were not used anymore officially).

---
Combat use in 1939:
Armoured train nr. 14 was initially assigned to the Polish C-in-C reserve. Its commander was initially Cpt. Jerzy Żelechowski, substituted during a campaign by a deputy Cpt. Henryk Gawełczyk.
(map)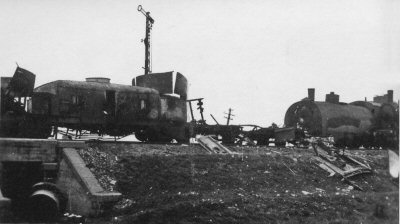 One of rare photos showing the train Nr.14 thoroughly destroyed by the crew. An assault wagon was in the middle... [10]
Up to 4 September 1939 the train was still mobilizing in Legionowo. Just on 1 September it was assigned to the Army "Pomorze" (Pomerania). On 6 September the train went to Kutno W, where it remained without combat orders for almost week.
The first - and last battle of "Paderewski" was the battle of the Bzura river W - the Polish counterstrike attempt, resulting in the biggest battle of the campaign. Along with armoured train Nr. 11 ("Danuta"), on 12 September it was assigned to an operational group of of Gen. Mikołaj Bołtuć W. On 13 September it was ordered to move near Łęczyca W to support a cavalry operational group of Gen. S. Grzmot-Skotnicki W.
The train Nr 14 came into action on 14 September, supporting Polish Border Guards battalion, which was halting attacks of German 221st Inf.Div. near Łęczyca until evening. At night the train returned to Kutno, then it operated on a line Kutno-Łowicz W until its end (a satellite photo of an operation area). On 16 September at noon, while at Rząśno W, its artillery supported a counterattack of the 2nd battalion of the 70th Infantry Regiment of Grzmot-Skotnicki's group, halting an advance of German 44th Regiment (10th Inf. Div.) south of the line, in an area of Sobota. In the afternoon it was attacked by aircraft at nearby Jackowice W station, without results. Later, when the Polish forces had to withdraw towards the Słudwia river, the train could not withdraw east due to track damage near Łowicz and had to be abandoned. The crew blew up the train somewhere near Jackowice and joined infantry units, trying to break towards Warsaw. In a similar place and time, Nr. 11 armoured train was abandoned. "Paderewski's" stock was destroyed beyond repair and was not utilized by the Germans.
It could be noted, that for many years the train's fate was unclear in publications, which sometimes suggested, that it had been destroyed by aircraft. Only in the 21st century the German photos of the blown-up train were revealed.

---
Train desription in 1939:
The armoured train nr. 14 ("Paderewski") consisted of:

The armoured train, as a military unit, consisted of: an armoured section, a platoon of armoured draisines (scout rail vehicles) and an unarmoured auxiliary section. The armoured section and armoured draisines were the combat section of the armoured train, while the auxiliary section supported the operation of the combat section from a logistical point of view and did not take part in combat duties directly, staying several kilometers at the rear. Apart from operational movements, by writing about "armoured train" I usually mean the armoured section (a strict meaning of "armoured train") or combat section only.
---
Locomotive:
A standard locomotive for Polish armoured trains since 1927 was the armoured steam locomotive series Ti3 (former Prussian series G53, built in 1903-06).
According to newest research[10], the train nr 14 had locomotive Ti3-8, which would be former G53-4114 Halle, built in 1904 by Henschel, factory number 6555.
---
Artillery wagons:
| | | |
| --- | --- | --- |
| | | Artillery wagon nr 658 641 after a modernization, in a camouflage from late 1930s. Armament: 100 mm howitzer (in the right turret), 75 mm gun (in the left turret), 5 machine guns. [1] |
"Paderewski" had two twin-turret artillery wagons, numbers 658 641 and 690 601. They were of different types, but were generally similar and built upon the same four-axle chassis (according to A. Jońca, American flatcars[10]). The publications usually claimed, that they were of the Soviet origin, but it is not sure, neither is known from which trains they would originate. There are not known photos of Soviet wagons of such types so far either. J. Magnuski claimed, that they came from two captured Soviet trains, but were rebuilt in Poland in early 1930s, their bodies being modernized and put onto new chassis[8]. It is also possible, that they were built in Poland using parts of old and captured wagons.
Each wagon was armed with one 100 mm wz. 14/19A howitzer (Austro-Hungarian Skoda) and one 75 mm wz. 02/26 field gun (modified 3in Putilov). Their horizontal angle of fire was about 240-270°. There is no closer data on this peculiar train, but some 100-125 artillery rounds per gun were carried in artillery wagons. A further armament were four 7.92 mm wz. 08 (Maxim MG-08) heavy machine guns in cylindrical moutings in sides. In early 1930s, each of the artillery wagons was fitted with one 7.92mm wz. 08 anti-aircraft machine gun in a small turret on the roof, with maximum elevation of 90°. The ammunition was probably 3,750 per each MG (in 15 x 250-round belts). One of the wagons (below) had additional four 7.92mm wz. 08 machine guns in artillery turrets, on either side of guns. An initial armament of wagons most likely consisted of 76.2mm wz.02 guns (M.02 "3in" Putilov).
| | | |
| --- | --- | --- |
| | | Artillery wagon nr 690 601 after a modernization, in a camouflage from late 1930s. Armament: 100 mm howitzer (in the left turret), 75 mm gun (in the right turret), 9 machine guns. [1] |
There is no information on armour thickness of these wagons specifically. Probably it was made of boiler steel 10-20 mm thick (new Polish wagons even had two-layer armour). If bodies of these wagons were ex-Soviet, they could have been made of armour steel, some 8 - 12mm thick. Probably they were also covered with oak planks from the inside. Both wagons had one big central entrance hatch on each side, and hatches in bottoms. The wagon's crew was around 35 men.
---
Assault wagon:
A two-axle assault wagon (Polish nomenclature) was intended for a transportation of an assault platoon. Most probably the wagon of "Paderewski", number 430 044, was converted from an artillery wagon (with a roof turret) of the train "Stefan Czarniecki", built in Poland on a chassis of the Prussian open wagon. Its armament consisted of 4 x 7.92mm wz. 08 machine guns in cylindrical mountings in the sides. The ammunition was probably 3,750 per MG (in 250-round belts). The armour was similar to artillery wagons, the body was built of big flat steel plates. The assault platoon consisted of 32 men (1 officer, 7 NCO's, 24 soldiers, with 2 LMG's). The total wagon's crew was about 40 (with signalmen and stretcher-bearers).
Since early 1930s, the assault wagon was equipped with a long-range radio RKD/P (range - up to 100km), placed in a separate radio cab in the middle of the wagon. The wagon was also fitted with a power generator, batteries and a large clothes line aerial on the roof. (6 masts in two rows). The wagon had an entrance hatch in each side, and also hatches in the bottom.
The crew of the train's armoured section was about 120-130 men - the whole armoured train's crew (with an auxiliary section and draisines) was about 190.
---
Flatcars:
Small, nevertheless interesting aerial photograph of a blown-up train Nr. 14 (on the right).
On both ends of the armoured section, there were two flatcars. Their primary function was to protect the armoured train against mines or a derailment. There was an observer with a central brake gauge on the flatcar. They were also adapted to carry engineering materials (tools, rails and sleepers, logs, explosives etc.) and also bicycles and motorcycles (part of it was carried on the auxiliary train's flatcars).
In the 1st Armoured Train Detachment, two-axle Pdks series flatcars were used as a standard, modified by fitting special boxes for tools and small parts[10]. Probably at least one of train's flatcars were unmodified, given by the Polish state Railways.
---
Armoured draisines platoon:
Each armoured train, mobilized in 1939, had a platoon of armoured draisines (scout rail vehicles). Train nr. 14 had a standard armoured draisines platoon, consisting of:
- two R type armoured draisine (FT-17 tanks on rail chassis)
- four TK type armoured draisines (TK-3 or TKS tankettes on rail runners)
Draisines usually acted in two units, consisting of: one "R" and two "TK" draisines. All the tanks could be easily detached from their rail chassis' and then used for ground reconnaissance tasks. The fifth TK tankette was in reserve. See the details on armoured draisines page.
---
Auxiliary train:
Each armoured train, considered as a military unit, also included an unarmoured auxiliary section. The auxiliary section accompanied the combat section in operational movements and provided it with an accommodation and logistics support. It was manned by a platoon consisting of 1 officer, 21 NCO's and 26 soldiers. The length of the auxiliary section of the train was about 250 m (820 ft).
The auxiliary train consisted of: a locomotive, coaches for officers (2), wagons for NCOs (2) and soldiers (8), bureau wagon, ammunition wagons (2), a fuel store wagon, a technical store wagon, an armoury wagon, an ambulance coach, a kitchen coach, a workshop wagon, a coal wagon, a water tanker and flatcars (5) - some 23 carriages (source [2]). The coaches were three-axle Dy type, the wagons were by default two-axle freight wagons Kd type, the flatcars were two- or four-axle.
The auxiliary train also had two wz.34 half-tracked trucks, one truck (Polski FIAT 621?) and four motorcycles with sidecars CWS M-111 - carried upon three flatcars. Wz.34 half-tracks were in the repair patrol, and they could be equipped with a rail-riding device.

---
All corrections, comments and additional informations or pictures are welcome!


---
Sources:
1. Janusz Magnuski "Pociag pancerny 'Danuta'", Typy Broni i Uzbrojenia (TBiU) No.18; Wydawnictwa MON; Warsaw 1972
2. Rajmund Szubański "Polska broń pancerna 1939"; Warsaw 1989
3. Paul Malmassari, "Les Trains Blindes 1826 - 1989"; Editions Heimdal, 1989
4. "Pociagi pancerne 1918-1943", Białystok 1999
5. "Mundur i Broń" nr 8
6. Józef Jurczyk, Krzysztof Margasiński, "Dziennik pociągu pancernego Hallerczyk", Czechowice-Dziedzice - Częstochowa 2010
7. Marian Żebrowski, "Zarys historii polskiej broni pancernej", Londyn 1971
8. Janusz Magnuski, "50 lat wrzesnia - Broń pancerna" in: "Wojskowy Przegląd Techniczny", nr 9/1989
10. Adam Jońca, "Pociągi pancerne z Legionowa" in: Do Broni! nr specjalny 2/2009
---
Update history:
10.09.2012 - small improvements, photo added
25.11.2011 - general modernization, added new and better photos.
06.06.2002 - supplemented dates in History
15.04.2002 - revised
13.12.2001 - revised, text improved, added train graphics
04.05.2001 - added locomotive photo, text improved
16.02.2001 - added early photo, history improved

---
[ Main page ] [ Polish armour / Polish armoured trains ] [ Polish armoured units ] [ Steel Panthers page ]
You can mail me with any questions or comments.
You can mail me with any questions or comments. Corrections and photos are welcome!
All photos and pictures remain the property of their owners, unless they are public domain. They are published in non-commercial educational and research purpose.
Text copyright to Michal Derela &copy 2000-2012.