Polish Armoured Train Nr. 13 ("Generał Sosnkowski")
---
History - Combat use in 1939 - Train's composition / Damaged train gallery
---
The armoured train Nr. 13, better known uder its original name "Generał Sosnkowski", became in a way the most famous of Polish armoured trains used in the Polish September 1939 Campaign of World War II. This train, bombed by the German aircraft, and then examined by Hitler himself, was possibly the most often photographed armoured train ever. It is sometimes treated as one of symbols of the Polish obsolete armament - while on the other hand, it was the only Polish regular armoured train destroyed by the aircraft - and the Germans themselves used a number of armoured trains until the end of World War II...
---
History:
Note: links marked with: (W) are external, directing to Wikipedia articles.
Construction and the Polish-Soviet war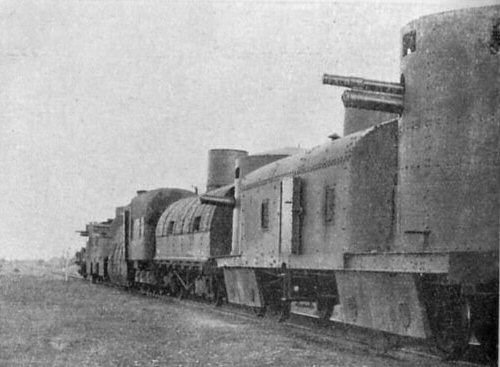 The Type I artillery wagon of "Generał Sosnkowski" in the early 1920s. A barrel of the second 76.2 mm gun seems withdrawn at a full recoil. Next is an assault wagon of the "half-barrel" type and a locomotive. The second artillery wagon might be of "Groźny" type (note armoured panel under a middle of wagon) [8]
During the Soviet counter offensive in summer of 1920, which was a part of 1919-1921 Polish-Soviet war(W), the Polish Army lost at least 8 armoured trains. To replenish the losses it was decided to build 15 new armoured trains at the Cegielski Works(W) in Poznań, which was not engaged in military production by that moment. In order to supervise designing and construction, the Armoured Trains Construction Management (KBPP) was created in Poznań on 1 August 1920, headed by Cpt. Stanisław Czerepiński.
The first design of the new KBPP was the artillery wagon 'Type I'. To save time, it was designed using captured drawings of the Soviet artillery wagon of South-Western Railway design, with only some technological changes 1. In fact, the Soviet armoured trains were the most modern at that time. The Type I artillery wagons introduced all the features of Soviet trains, like: four-axle bogey construction, twin artillery turrets with 76.2 mm guns and good protection. Armour plates came from Kulczyński's Iron Works in Sosnowiec. The first newly-built in Poznań armoured train had two such modern artillery wagons, and one or two assault wagons, instead of 5-6 partially armoured and poorly armed semi-improvised wagons, like in most Polish earlier trains. It entered service in the end of October 1920 1 with a name "Generał Sosnkowski", in a honour of General Kazimierz Sosnkowski(W), and was assigned a number P.P. 26 (Pociąg Pancerny = armoured train). There is however some confusion about the origin of "Generał Sosnkowski", because some older publications call it a captured Soviet train. Nevertheless, despite it was based upon captured Soviet plans, there are not known any wagons of that type in the Soviet service so far.
"Generał Sosnkowski" did not manage to take part in combat in 1920 and remained the only example of the armoured train Type I. When the Polish Army won the great Battle of Warsaw(W) in August 1920 and repelled the Soviets, what led to a truce in October, the construction of new trains was not considered necessary anymore. It was decided to build only several modern armoured wagons in order to modernize some of existing trains. When "Generał Sosnkowski" entered service, it revealed several faults, like a limited angle of artillery fire, and an average firepower, due to lack of howitzers. Therefore, much better indigenous designs of artillery wagons were developed at Cegielski: Type II, used in armoured trains "Danuta" and "Poznańczyk", and Type III, used in "Śmiały" and "Piłsudczyk".
Interwar training service - configuration changes
Most likely "Generał Sosnkowski" in the early 1920s. From the right: an armoured locomotive (probably Ti3 type), an assault wagon ("half-barrel" type), an artillery wagon Type I and another of a type used in "Groźny", and a flatcar. [8]
After the Polish-Soviet war, in June 1921 the train was assigned for further service, amongst 12 most modern trains. It was given a number P.P. 12 2, or (probably after 1923) P.P. 2 3. In winter of 1923/1924 all the Polish armoured trains were demobilized and stored, except "Generał Sosnkowski" and "Danuta", which remained for training use in the Armoured Trains' Training Unit in Jabłonna(W) near Warsaw, created in 1924 3. In October 1927, the training unit was reformed as the 1st Armoured Train Unit (1 Dywizjon Pociągów Pancernych) in Jabłonna. From 1933, "Generał Sosnkowski" was known simply as the Armoured Train (Pociąg Pancerny) of the 1st Armoured Train Unit (the crew of "Danuta" became the Cadre Armoured Train).3
According to photos, in the 1920s a composition of "Gen. Sosnkowski" was variable - apparently there was not a rigid composition of the training trains at that time. Apart from its original Type I artillery wagons, it also used Type II artillery wagons of "Danuta", and ex-Soviet artillery wagons of a type used in "Groźny" (it is not clear, if they were the same ones). It usually used an assault wagon of the "half-barrel" type, constructed in the KBPP in Warsaw (type used later, among others, in "Poznańczyk"), and also an assault wagon, that was eventually most likely found in "Danuta". The final composition of the Polish trains was established probably in January 1929. It is not clear, however, if a training train of the 1st Armoured Train Unit in the 1930s, consisting of Type II artillery wagons and "half-barrel" type assault wagon, was "Danuta", or maybe "Generał Sosnkowski" (it does not matter much on the other hand, for names apparently were not used anymore at that time, and this train actually had more in common with "Danuta"). In case of mobilization, "Generał Sosnkowski" was to be fitted with two Type I wagons.

"Generał Sosnkowski" in 1920. From the left: an armoured locomotive Ti3 (with train's name), a "half-barrel" type assault wagon, an assault wagon of "Danuta" type, an artillery wagon of "Groźny" type.
[7]
In the late twenties / early thirties, the train underwent some modernization, and its locomotive (series Ti3) was improved. Its armament was standardized (75mm wz.02/26 guns and wz.08 MG's), the train received radio and signal equipment and AA machine guns.
In 1939, former "Generał Sosnkowski", with its original two Type I artillery wagons, was mobilized as the pociąg pancerny nr 13 - armoured train Nr. 13 (the names were not used officially).
---
Combat use in 1939: 4
( a general map )
The armoured train Nr. 13 (former "Generał Sosnkowski") was commanded by Cpt. (kapitan) Stanisław Młodziankowski, the 2nd in command was Cpt. Mieczysław Wnukowski. The train had non-standard armoured draisines platoon, weaker than other trains, for it had two draisines R (FT-17 tanks) and two older Tatras, instead of two R's and five TK tankettes.
On 1 September 1939 the train, assigned to Army "Modlin", was moved to Nasielsk(W), being in the Army's reserve. On 3 September the crew had to repair track in Nasielsk, heavily damaged by bombers, and at night the train patrolled towards Ciechanów(W), captured by the Germans. Cpt. Wnukowski rode the armoured draisines R for a reconnaissance to the town. On the next day (4 September) the draisine was sent again, and it brought a captive. The train came back to Modlin(W) then, and on 5 September it patrolled between Nasielsk(W) and Płońsk(W), along with train Nr. 15 ("Smierc"), which was subordinated to Cpt. Młodziankowski at that time, creating an armoured train group. The train Nr. 13 was attacked by the aircraft near Pomiechówek, and it shot down one of them (according to Cpt. Młodziankowski, it was the second plane shot down, but no details are given on the first one 5). Both trains were actively patrolling the area, providing the Army's Staff with information about enemy positions, as well as own positions.
Next, the train Nr. 13 acted in Wyszków(W) town area. At night on 7/8 September, in a lack of other means, it was used for finding and delivering orders to a headquarters of the Operational Group "Wyszków". After that, the train strengthened a defence of the south bank of the Bug(W). On 9 September the train supported with artillery fire the III/55 battalion, that was defending the bridges at Wyszków. It helped to foil an enemy's attempt of crossing the Bug at Rybno, and fought against the German artillery in a forest of Puszcza Biała on that day 4 (Cpt. Młodziankowski, in his report does not confirm any of these targets nor enemy's attempt of crossing the Bug 5, but he might have been unaware of targets of his scheduled indirect fire). The train, in fact, was often commanded by the second in command, because the commander had to search for units' staffs and keep a liaison personally, in a chaotic wartime situation.
On 10 September, during a withdrawal of the Army "Modlin"'s units from the Bug line, the armoured train Nr. 13 came to Łochów(W) station, in order to cover a withdrawal of the 116th Infantry Regiment (of the 41st Division). Its auxiliary section was sent to Mińsk Mazowiecki(W). The armoured section had a water tanker wagon and one accomodation wagon attached at that time 5. At about 2pm the train, commanded by the 2nd in command Cpt. Wnukowski, tried to move to the left bank of the Liwiec(W), and its crew repaired the bombed track near Łochów station. When the train was passing the station, the German dive bombers Ju 87 attacked. One 250-kg (550-lb) bomb exploded between tracks, and threw the moving train off of its track. A fire started in an assault wagon. The armoured train was unable to fight, neither to a quick repair, and the crew abandoned it, after destroying some mechanisms.
The armoured train Nr.13 derailed due to bombardment (move direction rearwards - to the left). A bomb crater is well seen. [3] - See a gallery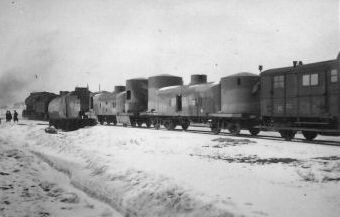 Artillery wagons of the Nr.13 train recovered and stored by the Germans.
Despite its sorry look, a damage was not extensive, and the Germans recovered the train, but its further fate is not known. According to some information, the Germans repaired the armoured train and used it during an invasion on Denmark in 1940. Supposedly it was transported by a ferry to Gedser(W), but its track is lost there 6. Unfortunately, lack of any information, its number nor name in German sources on armoured trains, makes the German service of "Generał Sosnkowski" doubtful. It is possible, that it could be used for propaganda or demonstration purpose only.
After the crew had abandoned the bombed armoured section, they went to Mińsk Mazowiecki, where they joined with Nr.13 train's auxiliary section. Therefore, the last combat episode of the armoured train Nr. 13 was between 11 and 16 September, when its auxiliary section stuck in a great railway jam, caused by many bombed evacuation trains and destroyed track, to the east of Mińsk Mazowiecki, in the area of Mrozy and Rutka. The crew of the armoured train Nr. 13, under command of Cpt. Młodziankowski, formed an improvised artillery battery of 4 field guns, found in some evacuation train (2 of them remained on flatcars, as "railway artillery"), while Cpt. Wnukowski took the command of an improvised infantry battalion. The crew took part in a subsequent defence of the Polish group stuck in the jam, with railway sappers and other soldiers from the trains. They were also blocking a road from Siedlce, next to the track (a part of this Polish group near Mrozy, gathered around stuck armoured train Nr. 52 "Piłsudczyk", defended itself in an encirclement until 20 September).
Surprisingly, and contrary to a common belief, "Generał Sosnkowski" was the only one of ten Polish regular armoured trains, knocked out by the German Luftwaffe, in spite of numerous air attacks on armoured trains. Apart from it, only an improvised Coastal Defence armoured train "Smok Kaszubski" was destroyed by the German aircraft.
---
Composition in 1939:
The armoured train, as a military unit, consisted of: an armoured section, a platoon of armoured draisines and an unarmoured auxiliary section. Speaking of combat, by a phrase: "armoured train" I mean the armoured section of the train only. The auxiliary section was always acompanying the armoured section, when not involved in combat duties.
---
Locomotive:
The standard locomotive of the Polish armoured trains since 1927 was the armoured steam locomotive series Ti3 - former Prussian series G5³, produced between 1903 and 1906 and armoured in Poland. "Gen. Sosnkowski" used such locomotive from 1920. Initially it was most probably Ti3-12 (see below), in 1939 it was Ti3-3, former G53-4016 Münster, built in 1904 by Hanomag (serial number 4125).
"Generał Sosnkowski" used one of two first Ti3s, armoured just in 1920 and modified after 1926 1, but probably the locomotive used in 1939 was not the same one. According to an article by Janusz Magnuski & Steven Zaloga 8, the first were armoured G53-4021 and 4024, but G53-4021 Münster (Ti3-12), was used in 1939 in armoured train Nr.11 ("Danuta"), and G53-4024 Danzig (Ti3-2) in Nr.51 ("I Marszałek"). Therefore, "Sosnkowski" probably used Ti3-12 in the beginning and inter-war period, when its composition was mixed.
Upon a tender, there was a commander's turret, equipped with a short-range radio RKB/C to contact the draisines, and an intercom to contact the wagons. It also had some optical and sonic means of internal communication (color lights, bells and horns). A maximum speed of a locomotive with armoured wagons was about 45 km/h (28 mph).
---
Artillery wagons:
The artillery wagons of "General Sosnkowski" were of the same 'Type I', built in Cegielski Works in Poznan in 1920, upon long four-axle bogey type wagons (probably of the Russian origin). Each was armed with two 75mm wz. 02/26 (modified "3in" Putilov M.02) field guns in high cylindrical turrets on wagon's ends, with about 270° horizontal angle of rotation. Turrets were the same, but one of them was mounted higher, on a barbette; the second one was on a level of wagon's floor. Initially, in the 1920s, they had original 76.2mm wz. 02 (M.02) guns.
Further armament consisted of four 7.92mm wz. 08 Maxim (MG-08) machine guns in standard cyllindrical mountings in wagon's sides and an anti-aircraft MG of the same type in a central roof turret, added in the late 1920s (its maximum elevation was 90°). Initially there was a higher observation turret. The ammunition was probably 120 artillery rounds per gun and 3,750 rounds per each MG (in 250-round belts).

Armour riveted of steel plates, probably double 8-12 mm layer 9, covered with oak planks from the inside. Crew was about 35 men.

| | | |
| --- | --- | --- |
| | | |
| The artillery wagon 'type I' of "Generał Sosnkowski" in the 1920s. On the right, an artillery wagon 'type II' of "Danuta". [3, 8] | | The artillery wagon in the 1930s (with AAMG turret) [6]. The drawing above is based upon this photo. [5] |
---
Assault wagon:
The final type of assault wagon in the 1930s. [6].

The assault wagon (Polish nomenclature, "wagon szturmowy") was intended for the transportation of an assault platoon. Initially, assault wagons used in "Generał Sosnkowski" were changing, but in 1939 the armoured train Nr. 13 used a wagon on the photo. It was two-axle, built in early 1930s in State Sapper Works (PWSap.) 8. The wagon had a two-leaf door in each side (near centre), and possiby doors in both end walls, it also had an access hatch in a bottom. The wagon was armed with four 7.92mm wz. 08 machine guns in the sides. The ammunition was 3,750 per MG. The armour was similar to artillery wagons. The assault platoon consisted of 32 men (1 officer, 7 NCO's, 24 soldiers, with 2 LMG's). The total wagon's crew was about 40 (with signalmen and stretcher-bearers).

Since the early thirties, the assault wagon was equipped with a long-range radio RKD/P (range - up to 80km), placed in a separate radio cab in the middle of the wagon. The wagon was also fitted with a power generator, batteries and a large clothes line aerial on the roof (its distinguishing feature were masts in three rows, of equal height).

The crew of the train's armoured section was about 120-130 men - the whole armoured train's crew in 1939 (with an auxiliary section and draisines) was 191, including 9 officers 3 .
---
Flatcars:
On both ends of the armoured train, there were two flatcars. Their primary function was to protect the armoured train against mines or a derailment. They were also adapted to carry engineering materials (tools, rails and sleepers, logs, explosives etc.) and also bicycles and motorcycles (part of it was carried on the auxiliary train's flatcars).
A standard flatcar series Pdkz (type VIIIC or, less likely, VIIC) was two-axle. Weight - about 10 t, load capacity - 17.5 t, length - 13 m (511 in), wheelbase - 8 m (315 in).
---
Armoured draisines platoon:
Each mobilized armoured train had a platoon of armoured draisines (scout rail vehicles). The standard armoured draisines platoon consisted of 2 armoured draisines R (tanks Renault FT-17 on a rail chassis) and 4 armoured draisines TK (tankettes on rail chassis). However, before the outbreak of the war, all the armoured draisines of the train Nr. 13 were given to the Army Pomorze, to strengthen the defense of the bridge on the Vistula in Tczew(W). The train received two older armoured draisines Tatra instead. According to the report of the train's commander, it received also two other armoured draisines R 5.
---
Auxiliary train:
Each armoured train, considered as a military unit, also included an unarmoured auxiliary section (Polish name "skład gospodarczy"). The auxiliary section accompanied the combat section in operational movements and provided it with an accomodation and logistics support. It was manned by a platoon consisting of 1 officer, 21 NCO's and 26 soldiers. The length of the auxiliary section of the train was about 250 m (820 ft).
It consisted of: a locomotive, coaches for officers (2), NCOs (2) and soldiers (8), supply wagons, an ambulance coach, a kitchen coach, a workshop wagon, a coal wagon, a water tanker and flatcars (5) - up to 30 carriages.
It was equipped with two wz.34 half-track trucks, one light truck (Polski FIAT 618?) and four motorcycles with sidecars CWS M-111 - upon three flatcars. Wz.34 half-tracks were from the repair patrol, and they could be equipped with a rail-riding device.
---
All corrections and additional informations or pictures are welcome!
References:
1. Janusz Magnuski: "Pociag pancerny 'Smiały' w trzech wojnach", Pelta, Warsaw 1996
2. Marian Włodzimierz Żebrowski: "Zarys historii Polskiej Broni Pancernej 1918-1947", London 1971, p. 110
3. Adam Jacek Ostrówka: "Pociagi pancerne Wojska Polskiego 1918-1939", Toruń 2004, ISBN 83-7322-673-7, p. 190, 196-197, 210
4. a primary source for combat use in 1939 section is Rajmund Szubański "Polska broń pancerna 1939"; Warsaw 1989
5. report of Cpt. Stanisław Młodziankowski in "Pociagi pancerne 1918-1943", Bialystok 1999, p. 165-167
6. Janusz Magnuski: "Niemieckie pociagi pancerne BP-42/BP-44" in: Nowa Technika Wojskowa nr 3/95, p. 10
7. Janusz Magnuski: "50 lat września - Broń pancerna" in: Wojskowy Przeglad Techniczny nr 9/1989, p.372
8. Janusz Magnuski & Steven Zaloga: "Polish armoured vehicles of WW2" in: Military Modelling 9/1983
9. from Janusz Magnuski: "Pociag pancerny 'Danuta'", Typy Broni i Uzbrojenia (TBiU) No.18; Warsaw 1972

General sources and photo sources:
1. Janusz Magnuski "Pociag pancerny 'Smiały' w trzech wojnach", Pelta, Warsaw 1996
2. Rajmund Szubański "Polska broń pancerna 1939"; Warsaw 1989
3. Paul Malmassari, "Les Trains Blindes 1826 - 1989"; Heimdal Editions 1989
4. "Pociagi pancerne 1918-1943", Bialystok 1999, ISBN 83-86232-11-0
5. Tadeusz Jurga: "Regularne jednostki Wojska Polskiego w 1939 r. Organizacja, działania bojowe..."; Warsaw 1975
6. Janusz Magnuski, "Pociag pancerny 'Danuta'", Typy Broni i Uzbrojenia (TBiU) No.18; Warsaw 1972
7. Jerzy Garbaczewski, "Pociagi pancerne w Wojsku Polskim 1918-1939 cz.I"; Mundur i Broń nr 8
8. Fritz Von Heigl, "Taschenbuch der tanks", 1930

---
Update history:

08.2002 - page modernized, minor corrections

02. 10. 2002 - added a drawing and a gallery

4. 07. 2008 - major text revision and improvement, references added, better photos, enhanced gallery
---
[ Main page ] [ Polish armour / Polish armoured trains ] [ Polish armoured units ] [ Steel Panthers page ] [ Links ]
You can mail me with any questions or comments.
All photos and pictures remain the property of their owners. They are published in non-commercial educational and research purpose.
Text copyright to Michal Derela © 2002-2008.