The armoured train "Śmierć" is usually associated with Polish light armoured train nr. 15 from World War II, which did not formally carry this name anymore. This page is devoted to its previous incarnation – the armoured train nr. 23 "Śmierć" from the Polish-Bolshevik war, describing its service and changes up to 1930. Information about it has been extracted from the page about train nr. 15 and supplemented with partially unpublished photographs and new facts. Further service until 1939 is in part II.
The text was created with a help from Krzysztof Margasiński.
Note: dashed underline marks external links to relevant Wikipedia articles.
---
Early history – Polish-Bolshevik war:
The "Śmierć" during a ceremony on 18 August 1920 at Grzegórzki station in Kraków – visible are: a part of wooden artillery wagon, a steel-protected infantry wagon (with truncated corners at one end) and the 73 class fully armoured locomotive. [1]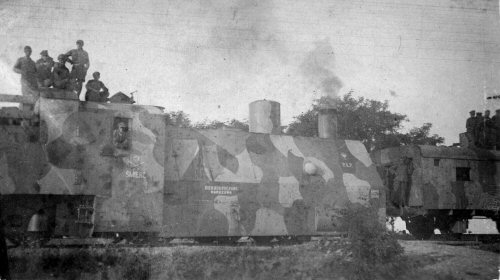 The "Śmierć" in early 1920s (possibly September 1920), with G51-4018 locomotive, armoured in Warsaw, in an interesting camouflage. On the right one of infantry wagons, from a flat end. The photograph was earlier known in worse quality. [1]
Below unique, previously unpublished photograph of the train with the artillery wagon well visible, apparently from the same photo session. [1]
Poor quality, but unique photograph showing the artillery wagon and both infantry wagons, previously unpublished. [1]
Officers of armoured train "Śmierć" in 1920 gathered around its commander Lt. Henryk Amrogowicz (probably by the commander's wagon in auxiliary section).
The original train "Śmierć" was formed in August 1920 by the Armored Train Construction Management (KBPP) in Kraków (Cracov), on the order of the Supreme Command of the Polish Army from July 1920, regarding hasty construction of new trains to replace the units lost in summer on the front of the Polish-Soviet war [note 1]. At that time, the Red Army had repelled allied Polish and Ukrainian forces from eastern Ukraine and was advancing towards Lviv and Warsaw. The armoured stock was built at Zieleniewski Works in Kraków. The train was built under the name "Śmierć komunie" (Death to the communism), in a spirit of Soviet trains' names, like "Smiert' Direktorii" (Death to the Directorate) or "Smiert' parazitam" (Death to parasites), but the Polish headquarters accepted only the name "Śmierć" (Death). It was assigned a number 23 (P.P. 23 - Pociąg pancerny – armoured train nr 23). The other train constructed in Kraków was "Bartosz Głowacki". The train's commander, Lt. Henryk Amrogowicz and most of the crew came from a destroyed wide-gauge train P.P.5 "Piłsudczyk-szeroki".
Because of military situation, not entirely completed train was handed to the Army during a ceremony on 18 August 1920 at Cracov Grzegórzki station and moved to front to Łowicz – Nieszawa area, assigned to the 5th Army. A great battle of Warsaw had just ended with Polish victory by that time, so the train was only patrolling, and then moved to Lublin, assigned to the 3rd Army of the Central Front. It distinguished itself in fighting against Budionny's Konarmia (1st Cavalry Army) near Zamość. In late September it was moved to Brest-Litovsk area and guarded a bridge on the Mukhavets (along with P.P. 16 "Mściciel"). Then the train was moved to Vilnius region. It took part in operation of occupying Vilnius, starting on 8 October, under a pretext of Gen. Żeligowski's "mutiny". As a result, a puppet country, Central Lithuania was created for several months. Apparently in connection with it, the train was renamed "Pogoń" (The Chase – coat of arms of Lithuania) – but soon it was renamed back. In a meantime, on 18 October there was a ceasefire, effectively ending Polish-Soviet war.
Initial composition
Initially the train was composed of improvised armoured rolling stock, built upon German open freight two-axle wagons Ommku series with brakemen booths, of 20-ton capacity and 4.5 m axle span. According to research by K. Margasiński, it initially consited of:
armoured locomotive
artillery wagon with Austrian 8 cm (7.65 mm) M.5/8 field gun
two infantry wagons with machine guns
searchlight wagon
flatcar
second artillery wagon (by October 1920).
Newly found photographs show, that the field gun 8 cm (76.5 mm) M.5/8 was fitted in a central cylindrical turret on the roof of a wooden wagon, probably protected with concrete from the inside. In each side wall there were two rectangular machine gun embrasures (one was placed lower) and four loop-holes for rifles. By 1 October 1920 the train was completed with the second artillery wagon with 8 cm cannon M.5/8, but its appearance and details are not known.
Two infantry wagons were probably also wooden, but covered with steel plates (probably not armour steel though). At least one had distinctive truncated corners at one end, covering a brakesman's cab. They had central roof turrets for machine guns and observation. In side walls they had two rectangular machine gun embrasures and apparently three small square holes for observation and rifle fire. Probably one of them was later renumbered as 425 627 and rebuilt and survived until 1939. Apart from the cannon, the train's armament was reported on 1 September 1920 as 10 Russian Maxim 7.62 mm MGs, 2 Colt 7.62 mm M1895 MGs and 130 rifles, and on 1 October 1920: 19 Maxim MGs and 132 rifles.
The train was also completed with a wagon with a field searchlight in a turret on a roof (presumably Austrian 60 cm one), among six Polish trains equipped so. Probably the wagon was usually attached to the auxiliary section of the train, used for night actions only, and its appearance is not known. If it was armoured, it might have been the wagon used later in "Danuta" train (a photo), evidently of the same design, but with big turret.
The photograph shows, that the train initially had kkStB class 73 locomotive with less common full armour, without commander's turret (according to K. Margasiński, probably it was 73.157, built in early August 1920 in Kraków for incomplete "Orzeł Biały" train, then used temporarily in the "Pierwszy Marszałek" – similar locomotive was built for the train "Groźny""). By 1 September 1920 the train received its final G51-4018 locomotive (no information on its original railway direction), fully-armoured according to KBPP Warsaw design.
Apart from a combat section, the train also had an unarmoured administrative or auxiliary section. The auxiliary section accompanied the combat section in operational movements and provided it with an accommodation and logistics support. It consisted of an unarmoured locomotive, and some 30 wagons, mostly covered freight wagons. It is possible, that it had Prussian G71-4459 locomotive, present on one photograph along with the armoured locomotive.
History – interwar period
After the war, the P.P. 23 "Śmierć" was among twelve trains assigned in June 1921 for further service, while the other twelve were disbanded. The train's half-improvised rolling stock might have been changed to more valuable one, but details are not known. By 1923 it was given new number 8, which it carried for a short time; its commander at that point was Lt. Czesław Kowalski. It should be noted, that Polish armoured trains underwent several organisation changes in 1920s and 1930s, combined with swapping, reconstruction and renumbering of their stock, and only lately it became possible to research these changes, but not to the full extent and with limited certainity.
In winter of 1923/24, by 15 February 1924, all Polish armoured trains got demobilised and were stored – among them was also "Śmierć". It was given new number 4 (P.P. 4), and in case of a mobilization it was to create the 2nd Armoured Train Unit in Legionowo with the train "Paderewski", in new composition. It should be noted, that the train might even never actually ride in its prescribed composition, being in reserve. According to newest research by A. Jońca[10], it was to consist at that time of:

Artillery wagon 699053 from "Generał Sosnkowski", which was to be included into mobilized train nr. 4 "Śmierć" in 1924-1929 (a camouflage from early 1930s)
armoured locomotive G51-4018 (original, new Polish designation: Ti1-26)
four-axle twin-turret artillery wagon 699 053 with two Russian 76 mm wz. 1902 cannons (earlier and later used in "Generał Sosnkowski")
two-axle artillery wagon 398 624 with Russian 76 mm wz. 1902 cannon (earlier used in "Bartosz Głowacki", finally in 1939 in training train of the 2nd Armoured Train Unit, later used in German Panzerzug 21 or 22)
assault (infantry) wagon 425 627 (original one, later used in "Paderewski" and finally in "Danuta" and German Panzerzug 21)
In 1927, the "Śmierć" got its final administrative assignment to the 1st Armoured Train Unit (1. Dywizjon Pociągów Pancernych) in Legionowo near Warsaw (sometimes described as basing in nearby Jabłonna). During last major reorganization of Polish trains in January 1930, their number was reduced to ten, and the "Śmierć" received its almost final composition, of three ex-Austro-Hungarian wagons from the "Zagończyk" armoured train: two artillery wagons (141 164 and 141 455) and the assault wagon (390 243). Its assault wagon 425 627, which underwent a reconstruction in a meantime, was given to the "Paderewski" and finally to the "Danuta".
---
---
Notes:

In summer of 1920 there were lost following armoured trains: in June: "Generał Dowbor", "Pionier-szeroki", "Generał Sikorski", in July: "Generał Dąbrowski" (aka "Grot"), "Hallerczyk", "Wilk", "Generał Iwaszkiewicz", "Generał Konarzewski", "Kaniów", "Piłsudczyk-szeroki", "Boruta", in August: "Generał Listowski". Some were later recreated with a new stock. Suffix "-szeroki" (wide) meant wide-gauge trains manned by crews of standard-gauge trains.
---
Sources:
1. family collection of M. Żurawska (photographs)
2. Adam Jońca: Polskie Pociągi Pancerne 1921-1939, Warsaw: Vesper, 2020
7. Pociągi pancerne 1918-1943, Białystok 1999
8. Marian Żebrowski: Zarys historii polskiej broni pancernej, London 1971
10. Adam Jońca: Pociągi pancerne z Legionowa, "Wielki Leksykon Uzbrojenia Wrzesień 1939" No. 24, Warsaw: Edipresse Polska 2013

---
[ Main page » Polish armour » armoured trains ] [ Polish artillery ] [ Steel Panthers page ] [ Links ]
---
You can mail me with question or comments - corrections or photographs are welcome.
All photos and pictures remain the property of their owners, unless they are public domain. They are published in non-commercial educational and research purpose. Text copyright to Michal Derela © 2021