Polish light tank 4TP (PZIn¿.140)
---
History - Armament and armour - Construction - Specifications - Kits
---
The 4TP prototype after being given to the Army, 15 August 1937. (enlarge)
The Polish light reconnaissance tank 4TP remained only a prototype. It belonged to a family of modern tracked vehicles, developed by Edward Habich in the late 1930s, which also included an amphibious tank PZIn¿.130, a tractor PZIn¿.152 and a tank destroyer PZIn¿.160. The 4TP was meant to be used in the Polish Army in a place of the tankettes TK/TKS.
---
4TP development history
The story of the Polish light reconnaissance tank 4TP, also known under its factory designation PZIn¿.140, is connected with designs of well-known British designers, J. V. Carden and V. Loyd. Working for Vickers-Armstrong, they designed numerous successful light tanks (among others Vickers E - 6 ton), which were exported to many countries and influenced many other designs in the world. Starting from 1928, they developed a line of the Light Tanks for the British Army (Mk I - Mk IV), and similar tanks for export. Main features of these designs were: a paired bogey-type suspension with two wheels per bogey, sprung on leaf springs or helical springs; an engine placed in the right part of a hull; two men crew and a rotating turret, armed typically with a machine gun. An export variant, Commercial Light Tank Vickers Carden-Loyd 4 ton, was developed into models: M1933, M1934, M1935, M1936 and M1937 (the latter was armed with a 4-pdr 40mm gun, built for Latvia). They were exported to many countries, mainly: Belgium (as T.15), the Netherlands (for the Dutch East Indies), Lithuania, Latvia, Siam, Argentina, Switzerland. They also served as a base for Vickers Carden-Loyd Amphibian Tank (more on PZIn¿.130 page) and several artillery tractors. The latest British Light Tanks of Carden-Loyd design were Mk V and Mk VI, with a 3-men crew.
The only tanks produced in Poland in the early 1930s were tankettes TK/TKS (inspired by the Carden-Loyd tankette as well), but a program of armoured weapons' development anticipated construction of a light reconnaissance tank with a rotating turret and a stronger armament. It was meant to replace the tankettes in the future. That is why in September 1932, the 4-ton light tank, the Amphibian Tank and an artillery tractor of Carden-Loyd were demonstrated in Poland. As a result, in May 1933 the Chief of the Engineering Department, Col. Tadeusz Kossakowski proposed to buy 5 light reconnaissance tanks Carden-Loyd 4-ton and one Amphibian Tank in an evaluation and research purpose, but it was not proceeded because of a lack of funds. Instead, it was decided to develop similar tanks in Poland, basing on a specification worked out in the BBT BP (the Testing Centre of the Armoured Weapons). An attempt of fitting a tankette with a turret (TKW) was a failure. Therefore, a task of designing a new 4-ton reconnaissance tank and an amphibian tank, sharing the same components, was given to the PZIn¿. (the State Engineering Works) in 1935.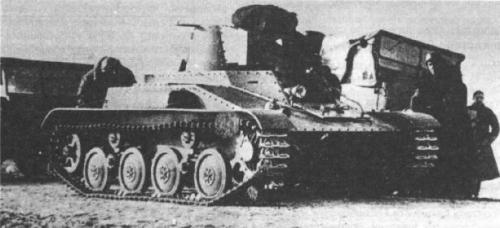 4TP during "Autumn 1937" trial.
The main designer of both tanks was the chief of the PZIn¿. Studies Section, engineer Edward Habich. The design and documentation of the light reconnaissance tank PZIn¿.140 was ready on 16 December 1936. Apart from a general inspiration by the Carden-Loyd layout, the new design was entirely Polish. It utilised some of the world's newest ideas, like a modern torsion bar suspension and also Polish inventions, like reversible periscopes. The engine was a Polish design as well.
Just in January 1937, a plan of armoured weapons' development for 1937-42 years, anticipated a replacement of tankettes with the new light reconnaissance tank, which received an Army designation 4TP. The program expected producing 480 such tanks for 18 reconnaissance tank companies in infantry divisions and in 4 so-called Motorized Units (OM, Oddzia³ Motorowy, former motorized brigades). The latter ones were expected to include a 4TP company and a 10TP company.
4TP from a rear, during "Autumn 1937" trial. On the left, PZIn¿.130 is visible.
A prototype of the reconnaissance tank was given to the Army on 15 August 1937. In the beginning of November it took part in a trial called "Autumn 1937", on a route of 1861 km. Also other prototypes were tested in this trial, among others the amphibian tank PZIn¿.130 and the tractor PZIn¿.152, both sharing the same chassis. The tank proved to be reliable, and its maintenance was simple. After the trial it was sent back to the PZIn¿. to apply some repairs and improvements. The testing continued in 1938. In June/July the 4TP was tested with a prototype 20mm automatic gun wz.38 FK-A. A committee of experts evaluated the tank to be a modern and successful design, fit for a serial production after some minor improvements. The main subject for improvement was the suspension. Although it was reliable and elastic, it was too soft and was causing the tank rock to sides too much, what made impossible an efficient fire while moving. Also materials used for constructing the prototype suspension had too low durability, what caused, first of all, breaking off of return rollers. The commission had some reservations as for a gearbox as well. All these drawbacks, however, were caused by the materials used in the prototype and were easy to be eliminated in a series production.
The last trials of the PZIn¿.140 prototype took place in May 1939. It ran 4300 km (2672 miles) in total, without any serious failure. The tank was not ordered for a production, however. In a meantime, the Polish General Staff concluded, that when the tank enters service, its design would not meet the requirements of a future battlefield (such conclusion was caused, among others, by the analysis of tank skirmishes in the Spanish Civil War - it was generally correct, confirmed by a decreasing role of the light tanks in the WW2). It was recognized, that the future combat reconnaissance should be a task of better armed and armoured light tanks of 7TP-like class. Some publications claim, that a production of the 4TP was meant to start in 1940 anyway, but it is doubtful. In spite of all this, in the late 1930s the 4TP was a design comparable or better to the world's other light reconnaissance tanks of its class.
Testing of the 4TP, winter of 1937/38.
---
Armament and armour
Armament:
The 4TP during trials - visible broken return rollers.
The only prototype of the light tank 4TP was not armed. Only in June/July 1938 the prototype of the Polish 20mm automatic gun wz.38 FK-A was tested with 4TP, and then returned to the factory. The tank was expected to be armed with a coaxial 20mm automatic gun wz.38 FK-A and a water cooled 7.92mm wz.30 tank machine gun. The ammunition load was to be 200 or 250 gun rounds and 2500 MG rounds. The turret was modeled after Bofors-designed turret of the 7TP tank, but it was smaller. It also had a hatch in a rear wall, like the first not accepted model of 7TP turret.
During a prototype construction, an idea of arming the tank with the 37mm wz.37 gun was considered. A fitting of a complete 7TP two-men turret showed impossible, as was fitting of any other newly-designed two-men turret, due to their diameter and a necessity of rebuilding the tank. On reccomendation of the Armoured Weapons HQ, E. Habich worked a design of a modified tank 4TP, designated as PZIn¿.180, fitted with a bigger one-man turret. The turret of PZIn¿.180 had a shape of a truncate prism and was fitted with a 37mm gun. However, it was soon correctly recognized, that the commander would be overburdened with a gun handling, and all his duties would suffer (like in the French tanks or the T-70). Apart from it, the gun would have to be modified heavily to fit into this smaller turret. By the way, the 37mm gun found a better use in a low-profile tank destroyer PZIn¿.160, designed by E. Habich on the same chassis as well, which remained a project only due to the war outbreak.
An idea of arming 4TP with a flamethrower was also considered, but it was not proceeded as well.
Armour:
The armour of riveted rolled plates:
- hull: front - 8-17 mm, sides - 13 mm, back - 10-13 mm, bottom - 4-8 mm, top - 5 mm;
- turret: front and sides: 13 mm, top - 5-6 mm.
Possibly the prototype was made of a regular steel.
---
Construction
Engine - PZIn¿.425: petrol, 4-stroke, V8 (older publications claimed 6-cylinder inline), power output: 95 HP at 3600 rpm, displacement: 3880 cm³, water-cooled, bore diameter 82mm, stroke 92mm. It was considered to replace this engine with PZIn¿.725 - petrol, 4-stroke, 6-cylinder inline, 5180 cm³, 100-120 HP. According to some information, such engine was fitted in 1938 or 1939.
Fuel tank - at the rear, capacity about 300 l.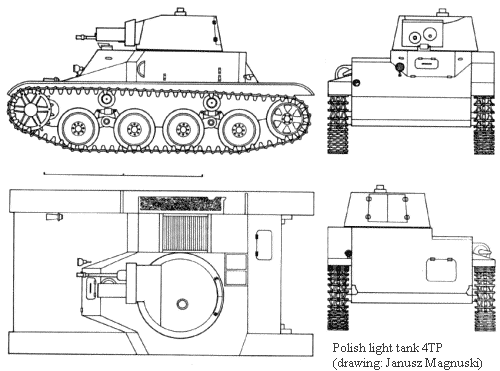 Transmission - dry multi-disc main clutch, mechanical gearbox, 4 forward gears, 1 reverse gear, side clutches with band brakes, side drives.
Suspension: drive sprocket in the front, idler at the rear. Paired bogey-type suspension. On each side four single roadwheels, rubber-rimmed, blocked in a bogey by two. The roadwheels were suspended on individual suspension arms, sprung by torsion bars. Each pair of wheels in a bogey had one horizontal hydraulical shock absorber. Two return rollers on each side. Single-pin, twin-spur metal tracks, each made of 87 links, link width 260 mm, pitch 90 mm, length of track on the ground 2.1 m, track 1.8 m.
Hull: riveted of armour plates. The crew compartment was on the left, the engine compartment on the right. The crew was two: a driver and a commander/gunner. The driver's seat was in front of the crew compartment, to his right there was a transmission. Before the driver there was a one-part hatch, that could be lowered onto the front armour plate. The hatch had a small openining vision port, with a vision slot. The driver had also a modern reversible periscope, of the Polish design by Rudolf Gundlach. Above the crew compartment there was an one-man turret, offset to the left, with the commander's seat in it. The turret had a two-leaf door in the rear wall and a hatch on the roof. It was also to be fitted with a reversible periscope. The turret traverse was manual. Series tanks were to be fitted with a radio.
Camouflage
The prototype was probably painted all in brown-green. Serial tanks were to be painted in a standard camouflage scheme of three colours: greyish sand and dark brown (sepia) over brown-green (base color). The patches were airbrushed, with soft transitions, the shapes were horizontal mainly. The interior was painted in sand (more on camouflage on the tankettes page).
Drawing of the 4TP - Copyright © Thierry Vallet - Kameleon Profils - courtesy by Thierry Vallet.
---
Specifications:
| | |
| --- | --- |
| Crew | 2 |
| Combat weight | 4330 kg |
| | |
| Length | 384 cm |
| Width | 208 cm |
| Height | 175 cm |
| Ground clearance | 32 cm |
| | |
| Maximum speed | 55 km/h |
| Road / off-road range | 450 / 240 km |
| Wading depth | 70 cm |
| Max. steepness | 38° |
| Crossing ditches | 160-170 cm |
| Power /weight ratio | 22 HP/t |
| Ground pressure | 0.34 kg/cm² |
| Fuel consumption | 66 l/100 km |
---
---
Kits
Scale model kits of the reconnaissance light tank 4TP:

1/72:
- Modell Trans Modellbau (MT72008a) - 4TP (PZInz.140)

Resin kit from a good German producer (we have no closer information)
1/35:
1/25 (paper):

"Ma³y Modelarz" 9/99 - "Polski czo³g rozpoznawczy PZIn¿.140 (4TP)" - paper model, decent quality.
---
---
---
Sources:
1. Janusz Magnuski: "Czo³gi rozpoznawcze PZIn¿.-130 i PZIn¿.-140"; Nowa Technika Wojskowa nr. 11/93.
2. Piotr Zarzycki: "Czo³g rozpoznawczy 4TP"; M³ody Technik nr. 12/86.
3. Janusz Magnuski: "Czo³g lekki PZIn¿. 140 (4TP)"; Nowa Technika Wojskowa nr. 4/2004.

---
[ Main page ] [ Polish armour / tanks] [ Polish armoured units ] [ Steel Panthers ] [ Links ]
You can mail me with questions or comments.


All the photos and pictures remain the property of their owners. They are published in non-commercial educational and research purpose.
Text copyright © Micha³ Derela.