Polish self-propelled guns 1930-1939 (TKD and TKS-D)
---
Armoured vehicles of the 10th Cavalry Brigade during manouvres in 1938. The first is the TKS-D tank destroyer with an ammunition trailer, behind it - the TKD self-propelled gun. Behind them, there are 5 (?) tankettes TKS. In the deep right background, the second TKS-D with a trailer is partly visible (click to enlarge - photo source 3).
Before the World War II, the Polish Army did not use self-propelled guns as a typical armament (not counting a dozen of old anti-aircraft SP-guns). Nevertheless, during this period there were used six experimental SP-guns of two models: TKD and TKS-D, developed on a tankette base. The later of them had a chance of serial production, which was canceled by the war outbreak. The war also canceled the third SP-gun project, a tank destroyer PZInz.160.
---
TKD self-propelled gun
Development:
In 1931, the TK-3 tankette was accepted for the Polish Army as a standard equipment. It was far development of the British Carden-Loyd tankette, which was advertised also in a light SP-gun variant, with a short-barrel 47 mm Vickers QF infantry gun. From the beginning the Polish military planned, that a self-propelled gun would be developed on the Polish tankette chassis as well. The SP-gun was meant for cavalry brigades as a support and anti-tank weapon.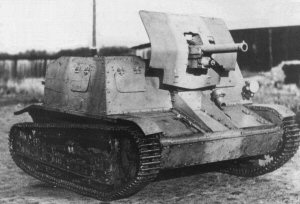 The TKD light SP-gun (click to enlarge - photo courtesy of Adam Jonca).
In April 1932, the Armoured Weapons Construction Bureau of the Army Engineer Research Institute (BK Br.Panc. WIBI) in Warsaw, under direction of J. Lapuszewski, designed self-propelled gun on a tankette chassis, named TKD. Since there were no other suitable guns, a 47mm wz.25 Pocisk infantry gun was chosen for armament. The Pocisk gun was the first modern gun designed in Poland, but it was built in a short series only and finally did not enter service as an infantry gun, since the Polish Army resigned of introducing infantry guns. As a result, four built guns were mounted in new vehicles, which was the only usage of Pocisk guns. There can be also found an information, that some "anti tank variant" of the 37mm SA.18 Puteaux gun and the 47mm Vickers tank gun were tested on the TKD (the later on no.1159 vehicle), but the details are not known.
In May-June 1932, four experimental TKD vehicles were built to test usage of SP-guns. They were converted from TK tankettes nos. 1156-1159 of the information series, built of a mild iron. Therefore, TKD vehicles were not armoured as well, but built of a mild iron, except a gun shield.
Use:
After tests, 4 vehicles TKD were formed in an experimental platoon, which took part in an autumn manouvres in 1932, then in 1933 manouvres, being assigned as an anti-tank reserve of a cavalry brigade. Trials showed, that the TKD meets tactical requirements well, but the vehicle construction is not too succesfull itself. The gun had too weak armour penetration and was not a typical weapon. Therefore, the TKD design was abandoned. In the following years, TKD prototypes were used in the 11th experimental armoured battalion in the Armoured Weapons' Training Centre in Modlin.

TKD platoon in an early camouflage (before 1937). In front there is a motorcycle CWS M111 (Sokol 1000) (photo courtesy of A. Jonca).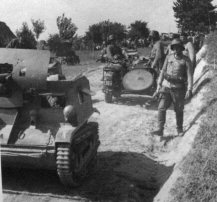 TKD in 1938, probably on a training ground in Barycz. Click to enlarge (photo source 3).
In 1938, the TKD platoon, with two TKS-D, was assigned to the 10th motorized Cavalry Brigade (according to source [4], they were only 2 TKD and 2 TKS-D). They were used in manouvres in August and September 1938. Then, with the Brigade they took part in an action of regaining the Czech Zaolzie province, inhabited by the Polish majority. The province was taken over without any fighting, on a forced "agreement" with the Czech government. The further fate of TKD prototypes is not known. According to some information, they took part in Warsaw defence in 1939, but it is not confirmed. The TKD capabilities in a real combat were limited by the fact, that they were not armoured.
Construction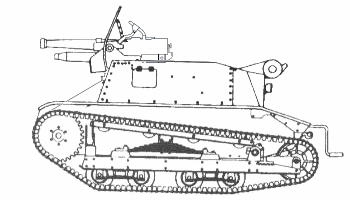 The TKD had an open combat compartment. Sides covered the crew only partially. The gun, with its lightly armoured shield was mounted centrally in front of the vehicle. Apart from it, the TKD construction was the same, as of the TK tankette. A driver sat on the left side of the vehicle. Since the vehicle's weight increased, a suspension was strenthened and wider tracks were applied. The gun had a vertical angle -12+23° and a small horizontal angle. Ammunition carried was 55 rounds.
TKD in new camouflage. Click to enlarge (photo courtesy of A. Jonca).
---
TKS with 37 mm gun
About 1936, the TKS tankette woth a short-barrel 37mm SA-18 Puteaux (wz.18) gun was tested. The SA-18 gun had a low velocity and poor anti-tank capabilities. The gun was mounted in an universal round mount in a place of the machine gun. Other details are not known.
---
Tank destroyer TKS-D
Development:
One of the TKS-D prototypes - with sloped sides. The vehicle is towing an ammunition trailer and a gun-carriage (the gun is mounted on the vehicle) (photo source 1).
The later, more sophisticated self-propelled gun model on the tankette base, was the TKS-D. Its development process was not typical, because it was first conceived as an armoured tractor for a modern 37mm wz.36 Bofors anti-tank gun, which was accepted as a basic Polish anti-tank weapon. It was planned, that the gun could be dismounted from its carriage and mounted on a tractor as well. The tractor could tow the gun-carriage then and fire the gun from the tractor in need. Judging from photos, however, TKS-D prototypes were only used with a gun mounted, which allowed to utilize tactical advantages of the self-propelled gun. Despite it was considered as a tractor at first, it became one of the world's first tank destroyers. Its advantage was very small silhouette and size, especially its small height (see a comparision sketch of small tank destroyers).
The TKS-D design was based upon a modified TKS tankette chassis - the same, as in the light artillery tractor C2P. It differed from the TKS tankette by using side clutches in a transmission and bigger idler wheels, which were last roadwheels as well. This gave C2P and TKS-D better traction. Main designers were J. Lapuszewski and H. Lipko, under direction of R. Gundlach. In April 1937 there were two TKS-D prototypes completed, rebuilt from serial tankette TKS nr.8897 and a prototype tankette TKS-B nr.1510. The TKS-B chassis had already been fitted with the new running gear, the other one was fitted with it during rebuild.
The TKS-D had a new, relatively long hull. Most of it was taken by an open crew compartment. Both TKS-D prototypes differed with the hull shape - one of them had higher side walls, sloped inwards. Since the gun sight and aiming mechanism was on the left side, a driver's seat was moved to the right side of the vehicle. A special two-wheel armoured ammunition trailer was also developed, carrying 80 rounds.
| | |
| --- | --- |
| | The TKS-D on a parade before the Polish President Ignacy Moscicki, the King of Romania Carol II and the prince Michael, 26-30 June 1937. The trailer is partly visible (photo courtesy of A. Jońca). |
Use:
TKS-D in 1938, probably on a training ground in Barycz. Click to enlarge (photo source 3).
In 1937-38, both TKS-D were tested in the Training Centre in Modlin. In 1938 they were assigned, along with the TKD platoon, to the 10th motorized Cavalry Brigade, and were used in manouvres in August and September 1938. Then, they took part in the action of regaining the Czech Zaolzie province, with the Brigade.
A question of TKS-D serial production is not explained in a literature. According to some publications, TKS-D won a competition against PZInz.160 project (below) due to much lower price, but supposedly the Polish authorities gave up self-propelled guns at all. It is not clear.
The further fate of TKS-D prototypes is not sure. Until recently it had been a mystery, but the newest publication [4] says, that both TKS-D were still present in an anti-tank platoon of the reconnaissance unit of the 10th Cavalry Brigade, along with 4 car-towed 37mm Bofors guns. Provided this is true, both TKS-D took part in an intensive fighting of the Brigade from 1 September 1939 in Beskidy mountains against two German armoured divisions. One of the vehicles was supposedly destroyed on 5 September in Skrzydlna village, the second on 9 September at Albigowa town.
Construction:
Approximate sketch of the TKS-D (based on the source 1, modified).
Armament:
Anti-tank gun 37mm wz.36 Bofors, mounted in front of the vehicle. Horizontal angle of fire was 24°, vertical angle of fire: -9+13°. Ammunition carried on the vehicle were 68 rounds, additional 80 rounds could be carried on the trailer.
Body:
The body was made of rolled armour plates, thickness 4-6 mm, with an open top. Side walls protected the crew only partially. The gun was mounted in front, offset to the left, protected with a front armour. On the right to the gun there was the driver's seat. Behind him there probably was an ammunition rack. On the left side of the vehicle, there sat a gunner in front, behind him - a loader (sitting backwards), and the fourth crewman, whose task was to pass ammunition, in the rear. The engine was placed along in the rear of the combat compartment. A canvas top could be raised a bove the crew compartment. The TKS-D had no radio.
The TKS-D examined by the King of Romania Carol II, 26-30 June 1937. The engine cover is visible inside the vehicle (photo courtesy of A. Jońca).
Engine: Polski FIAT-122B - petrol, 6 cylinder inline, 4 stroke, water-cooled, 46 HP at 2600 rpm, capacity 2952 cm³. Transmission: dry single-disc main clutch, mechanical gearbox, 4 forward gears, 1 reverse gear, side clutches with band brakes, side drives. Fuel tank - 70 l.

Suspension: blocked of two two-wheel bogeys on each side, sprung with pairs of small leaf springs in each bogey. Bogeys were moving in a suspension frame, and sprung with a main leaf spring, fixed centrally to the hull side. The sprocket wheel was in front. The idler wheel at the rear, mounted on the suspension frame, was also the last roadwheel. There were 4 return rollers on each side.
---
Tank destroyer PZInz.160
The tank destroyer PZInz.160 (correctly: PZInż.160, with Polish characters) was designed in Panstwowe Zaklady Inzynierii (State Engineering Works) as an alternative for the TKS-D, using the same gun 37mm wz.36 Bofors. It based on a modern chassis from a vehicle family developed by Edward Habich, used in prototypes of the light tank 4TP (PZInz.140), amphibious tank PZInz.130 and the artillery tractor PZInz.152. The tank destroyer design was given a factory designation PZInz.160. There is no information, if a prototype was ever built - probably it remained on a drawing board only.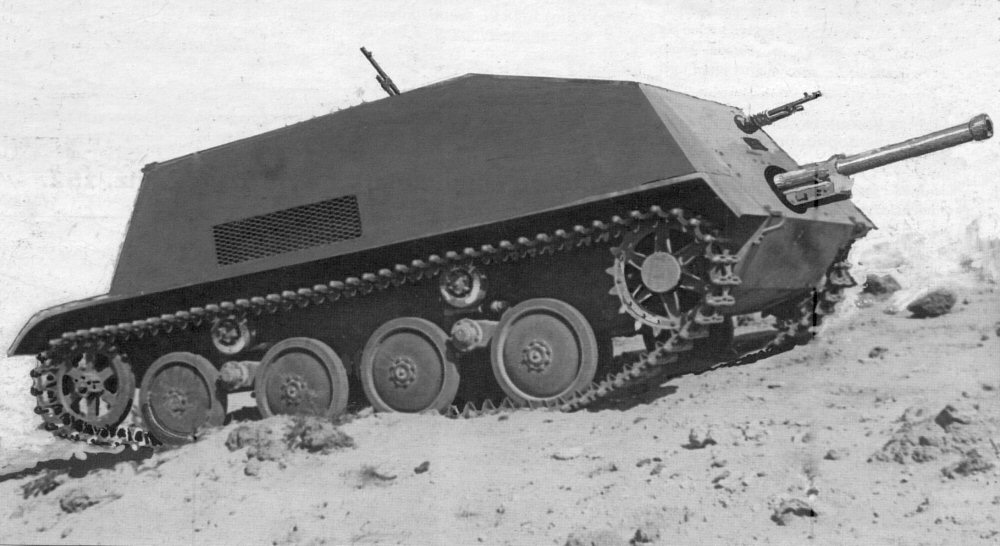 Tank destroyer PZInz.160. Due to a poor photo quality, it is not clear, if it is a prototype, a mock-up on a chassis or only a painting.
PZInz.160 was armed with the anti-tank gun 37mm wz.36 Bofors, mounted low in front of the vehicle, and two 7.92mm machine guns. One machine gun was to be mounted in the front sloped plate, above the gun. The second was to be anti-aircraft one.
Data: weight 4.3 t, crew - 4, max speed - 50 km/h. The engine, transmission and suspension details were probably the same, as in 4TP tank:
Engine: PZInz.425, power 95 HP at 3600 rpm, 6-cylinder inline, petrol, 4-stroke, displacement 3880 cm³, water-cooled, bore diameter 82mm, stroke 92mm. The engine was placed along on the right side of the vehicle. Transmission - dry multi-disc main clutch, mechanical gearbox, 4 forward gears, 1 reverse gear, side clutches with band brakes, side drives.

Suspension: drive sprocket in the front, idler at the rear. Paired bogey-type suspension. On each side four single roadwheels, rubber-rimmed, blocked in a bogey by two. The roadwheels were suspended on individual suspension arms, sprung by torsion bars. Each pair of wheels in a bogey had one horizontal hydraulical shock absorber. Two return wheels on each side. Single-pin, twin-spur metal tracks, each made of 87 links, link width 260 mm, pitch 90 mm, length of track on the ground 2.1 m, track 1.8 m.
---
Camouflage:
Self-propelled guns were camouflaged in the same wasy, as other Polish armoured vehicles. Between 1932 and 1936 TKD vehicles were painted in an older camouflage scheme, called the "Japanese" one. There were patches in bright yellowish sand, dark green and dark brown, separated with thin black stripes.
TKS-D in 1938. Author -?.
From 1937 TKD and TKS-D vehicles were painted in a standard three-color camouflage scheme, consisting of irregular patches of greyish sand and dark brown (sepia) over the base color of brown-green. The patches were airbrushed, with soft transitions, the shapes were horizontal mainly. There was not any standard pattern of patches. An interior was probably brown-green.
---
Data:
TKS-D
PZInz.160
Crew
4
4
Weight
2.5 t without gun, 3.1 t with gun
4.3 t
Length
3.26 m total, about 2.85 m - hull
about 3.84 m - hull
Width
1.8 m
about 2.08 m
Height
1.24 m
?
Ground clearance
30 cm
about 32 cm
Track width
17 cm
26 cm
Distance between track centres
145 cm
180 cm
Track length
175 cm
210 cm
Maximum road speed
42 km/h
50 km/h
Range on roads / off road
220 / 120 km
?
Fuel consumption
?
about 66 l/100 km
Power to weight ratio
14.8 HP/t
about 22 HP/t
Ground pressure
kg/cm²
about 0.34 kg/cm²
Obstacles:
Wading depth
50 cm
about 70 cm
Slopness
38°
about 38°
Ditch width
120 cm
about 160 cm
Wall
cm
cm
---
---
Models
Models of Polish SP-guns:
1/35:
- RPM (35040) - TKD

injection model with photoetched parts

- RPM (35008) - experimental TKS with 37mm wz.18 gun

the same parts as RPM's TKS tankettes. Model erronenously named: "TK-SD" (not confuse with TKS-D!)
---
Sources:
1. Janusz Magnuski, "Karaluchy przeciw panzerom", Pelta, Warsaw 1995
2. Leszek Komuda, "Przeciwpancerne tankietki" in: "Militaria" Rok 1 Nr 3 and Nr 4.
3. Jan Tarczyński, K. Barbarski, A. Jońca, "Pojazdy w Wojsku Polskim - Polish Army Vehicles - 1918-1939"; Ajaks; Pruszków 1995.
4. Eugeniusz Piotr Nowak, "Dywizjon Rozpoznawczy 10 Brygady Kawalerii 1938-1939", Cracov 1999
5. Janusz Magnuski, "Czołg rozpoznawczy TK (TKS)", TBiU nr 36, Warsaw 1975.


Our thanks to Adam Jońca!


---
---
[ Main page ] [ Polish armour / armoured cars ] [ Polish armoured units ] [ Steel Panthers ] [ Links ]
You can mail me with any questions or comments. Corrections or photos are welcome.
All photos and pictures remain the property of their owners. They are published in non-commercial educational and research purpose.
Text copyright to Michal Derela, © 2004.