Polish armoured draisine of the SOK (Railway Protection Service)
---
This page is devoted to draisines used by Polish paramilitary formation Railway Protection Service (Służba Ochrony Kolei - SOK) after World War II. You can read more about the background and usage of SOK rail vehicles on SOK armoured trains page.
"Draisine" is a word of German origin, meaning a light auxiliary rail motor vehicle (trolley). Armoured draisines (in Polish: drezyna pancerna) were light armoured rail motor vehicles, meant for a reconnaissance, scouting, track patrolling and other auxiliary combat tasks. You can read about Polish 1939 armoured draisines here.
In 1947 the SOK armoured train unit received one or two armoured draisines, leftover from World War II, repaired in railway workshops.
---
Armoured draisine Steyr
Ex-German armoured draisine Steyr. The first from the right is M. Jarosz - the commander of the SOK armoured train unit. The vehicle has a rod radio aerial.
The only known armoured draisine of the SOK was ex-German armoured draisine (Panzerdraisine) type Steyr K 2670 (known also in German as: "leichte Schienenpanzer" - le.SP or "Panzersicherungswagen"). It was designed by the Austrian works Steyr-Daimler-Puch AG in 1943, and at least 40 were built. Such draisines were used in German light armoured trains type leichte Spähzug, consisting of 10 such draisines each and meant for anti-partisan service in Balkans. Due to light axle pressure (4.7 t) they could operate on worse tracks of those areas. The Germans formed four such trains in 1944 (le. Sp. 301 to 304).
It is not known, how such draisine found itself in Poland after the war. Possibly it was left in German armoured train training center in Rembertów. It was used in the SOK armoured train unit in the late 1940s, among others in Operation "Wisla". It remained in service until 1950s, in SOK, or maybe in KBW (Internal Security Corps) units.
Weight - 7.5 t, combat weight - 9.5 t; crew: 5 - 8; length /width - 569 /252 cm; height without / with aerial - 227 /253 cm; maximum speed - 60 km/h, range - 400 km. The draisine was 2-axle, powered by an air-cooled 3.5 l V8 engine Steyr 70 HP, placed centrally.
Armour: 14.5 mm. Armoured hull had sloped sides, with hatches on both sides and covered air intakes on one side. It had two hatches on a roof as well. The vehicle had no fixed weapons, the hull had 6 MG ports - two at the ends and one per each side. The original armament were 4 x 7.92mm MG-34 machine guns, in Polish service it consisted of 7.62mm DP LMG's of the crew. Each of Steyr Panzerdraisines had a rail aerial of a short-range radio on the roof, however in some period Polish vehicle had a simple rod radio aerial instead (probably of Soviet origin - on the right photo).
---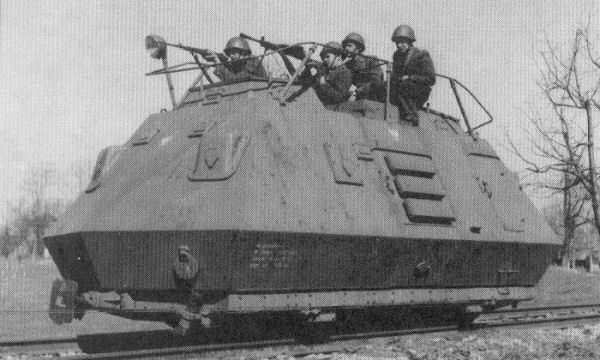 Luckilly, this draisine in Polish service was a subject of a photo essay by J. Fil in the late 1940s or early 1950s - the photos below and beside are taken from source [2]:
As is evident, the vehicle still has its rail aerial. The armament consists of 7.62mm DP light machine guns and rifles of the crew.
---
Other draisines
Unfortunately, nothing is known about the other draisines. It is only known, that the second draisine: "was supposed to be Czech Skoda" and bore the name "Baska" (diminutive form of Barbara; "Ba¶ka" with Polish characters). It was driven, among others, by the guard M. Slowik.
| | |
| --- | --- |
| A regular draisine of the SOK in the late 40's or 50's, the details and the type are not known. [Photo - source 2] | |
---
Sources:
1. Janusz Magnuski, "Wozy bojowe LWP 1943-1983"; Wydawnictwa MON, Warsaw 1985
2. Janusz Magnuski, "Drezyna pancerna SOK" in: "Militaria" vol.1 nr.1 (June 1991).
Our thanks to Tomasz Mankowski
---
You can mail me with any questions or comments.
[ Main page > Polish armour > armoured trains ] [ Polish armoured units ] [ Steel Panthers page ] [ Links ]
You can mail me with questions or comments. Corrections or photos are welcome.
All photos and pictures remain the property of their owners. They are published in non-commercial educational and research purpose.
Text copyright to Michal Derela &copy 2002-2011