Firing the wz. 17 howitzer (7th Heavy Artillery Regiment, 1935).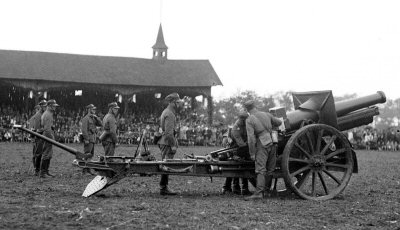 155 mm howitzer wz.17 before shooting. Well visible is a spade and a directional shaft. A short ramrod is lying across the gun bed.
155 mm howitzer wz.17 on a parade in Poznań, 11. 11. 1929.
155 mm howitzer wz.17 on the move, 1938. Visible is a locked craddle, T-shaped ramrod lying across the gunbed, and ammunition stretcher next to it.

September 1939:


Abandoned howitzer in the woods in 1939.
German-captured 155 mm howitzer in 1939.
Abandoned howitzer in 1939.
Abandoned howitzer in 1939. Visible is an open locker.
German-captured howitzers, reportedly in Warsaw in 1939.
German-captured howitzers - note a camouflage.
French canon de 155 C mle 1917 Schneider (C17S), designated in Poland as 155 mm haubica wz. 1917 (1917 pattern – also written as wz. 17), was the only heavy field howitzer type of Polish Army at the outbreak of World War II. It was a sound and reliable design, and arguably the best heavy howitzer of World War I, offering greatest range in its class by then. Despite it was outclassed by more modern foreign designs by the outbreak of World War II, it remained a potent artillery piece, used in combat among others by France, USA and Finland. It was also manufactured in Poland.
Note: letter W indicates external links to relevant Wikipedia articles.
---
Development outline:
At the beginning of the 20th century, a modern 152 mm heavy howitzer was designed at the Schneider works in France for the needs of the Russian Army. Its production was placed at the Putilov Works in Russia, where it was initially designated as a fortress howitzer model 1909, but during World War I it became used also as a field howitzer (the design was later modernized, creating the basic Soviet heavy field howitzer model 1909/30). On the other hand, the French army at that time relied on 155 mm field howitzers mle 1904 of Rimailho design, whose range proved to be insufficient in the conditions of World War I positional fights. At that time, Schneider redesigned its howitzer built for Russia, adapting it for 155 mm French ammunition. This project was approved by the French army, and a new howitzer was adopted under the designation canon de 155 C mle 1917 Schneider. The production began in 1917, and by the end of World War I 3035 units were produced.
After the war, surplus howitzers went to numerous countries. At the same time it remained the basic heavy howitzer of the French army until the outbreak of World War II, with over 2,000 in service. Licence production of the modified model was undertaken in the USA and this gun, under the designation M1918, remained the basic American heavy howitzer until the end of 1942.
Note: You can read more about its development and design in Wikipedia article.
---
Pre-war service:
The first Polish unit to use mle 1917 howitzers was allied General Józef Haller's Blue ArmyW, created in France in 1917. They were used in two Heavy Artillery Regiments there – 24 howitzers in total. After World War I, in a spring of 1919 the army returned to Poland, with its equipment. Since Poland was involved in a war with Soviet RussiaW at that time, further deliveries from France followed from mid-1919. Polish Army only had a handful of Austro-Hungarian M.99W (six), M.14W (nine) and German sFH 02W (four) heavy 149 mm howitzers by then (not counting eleven German howitzers of different marks in provincial Greater Poland Army).
By July 1919, there were created seven heavy artillery detachments, containing initially 8 howitzers 155 mm (in addition to 4 guns 105 mm). Others detachments fitted exclusively or partly with French guns followed, and also a number of batteries in some detachments increased. On 1 October 1920 there were 206 French 155 mm howitzers in total (89 of them were used in 26 batteries, the rest were in reserve). After the war it was decided, that wz. 17 howitzer would remain a standard artillery piece in Heavy Artillery Regiments. In 1923-1928 probably 56 were bought, and in 1931-1935 years 47 more were bought from France[1]. Poland also acquired a licence to manufacture it in Zakłady Starachowickie in StarachowiceW. Probably 44 pieces were manufactured in Poland before the war[1], starting from 1938. Maximal production capability was estimated at only 6 guns per month[2]. In 1938 there were 316 in inventory, and in August 1939 there were 340[1].
Generally all Polish howitzers were horse-drawn. Between 1931 and 1934, a battery of wz. 17 howitzers were used experimentally in the 1st Motorized Artillery Regiment in StryjW. They were towed by Citroën-Kegresse P14 halftrack tractors, using special four-wheeled "roller-skates" with rubber rims, put under gun beds. By 1935, they were withdrawn from motorized artillery in a favour of 120 mm wz.78/09/31 guns. There were subsequent plans to motorize at least five heavy artillery detachments of C-in-C reserve, probably using motor equipment bought from France, but they were not realized before the war. Only one howitzer was fitted with French Michelin DS rubber tires and used for trials of PZInż. 152 tracked tractor in 1937 (weight of the gun with a limber was 4538 kg). As a half-measure, in late 1930s also several agricultural tractors were tested to tow ordinary howitzers, and the 5th Heavy Artillery Regiment in Kraków had 11 tractors, but their usage remained experimental. There is known only one wartime photo of the howitzer, probably from reserve centre in Góra Kalwaria, towed by Bolinder-Munktell AK tractor.
According to General Miller's report from June 1939, there were 341 howitzers 155 mm wz. 1917 available in total. At that moment further 36 were ordered for 1939/40 FY[2], and a couple might have been delivered by the war's outbreak. An average condition of barrels was estimated at 77% - enough for 6100 shots. There were approximately 844 rounds per gun available, i.e. 35 calculated units of fire (24 rounds). Polish production capabilities were only 0.7 of a round a day.
---
1939 wartime use
155 mm howitzers were used in Heavy Artillery Units (Polish: dac - dywizjon artylerii ciężkiej) of all 30 regular Infantry Divisions, consisiting of a battery of three 155 mm howitzers and a battery of three 105 mm cannons (type II Unit). These units were not existing during a peacetime, and were mobilized by peacetime Heavy Artillery Regiments. There were plans, that a detachment should have two four-gun howitzer batteries and one four-gun 105 mm battery (type I detachment), but sadly, they were not realized before the war (it would leave almost no reserve howitzers, but with a hindsight, it would be wiser usage of reserves, or at least part of divisions could have been fitted that way). As a result, a number of heavy artillery pieces available for a division commander must be described as very scarse. Also contrary to plans, 10 reserve Infantry Divisions got no heavy artillery assigned.
155 mm howitzers were also used in eight wartime Heavy Artillery Regiments (Polish: pac - pułk artylerii ciężkiej) of a C-in-C reserve, nos. 1 to 7 and 9, different from pre-war regiments. Each regiment had the 1st detachment with twelve 105 mm cannons, and the 2nd detachment with twelve 155 mm howitzers in three four-gun batteries. There were also four separate detachments of 155 mm howitzers (nos. 60, 88, 95, 98). In total there were 12 detachments of 155 mm howitzers in C-in-C reserve, with 144 howitzers. All Polish 155 mm howitzers were horse-drawn.
Numbers above show, that only 234 howitzers were eventually assigned for units mobilized in September 1939. They took active part in combat, appearing an efficient weapon, when they could be properly used, in a core of Polish defence positions, with forward observers. Among others, the 2nd detachment of the 3rd Heavy Artillery Regiment took part in Warsaw defence, helping to repell assaults of the 4th Panzer Division, while the 7th Heavy Artillery Detachment fought against German 1st Panzer Division at Częstochowa. There happened also cases, when howitzers had to repell tanks with a direct fire, eg. the 6th battery of the 6th Heavy Artillery Regiment defending an ammunition depot Hołosko near Lviv. Unfortunately, not always the conditions were favourable, and many howitzers were lost on retreat routes.
Some further guns might have been used as replacement. 44 of remaining howitzers were used in batteries created in Reserve Centres (four- or six-gun), but there is no information about their actual usage.
It is worth to note, that Polish soldiers met 155 mm mle 1917 howitzers again in 1940 in France. They were the armament of two heavy artillery regiments, each with 24 howitzers, assigned to two Polish infantry divisions, formed in France and taking part in the French campaign (1st Grenadier Division and 2nd Foot Rifle Division).
---
Further service (Germany and Finland)
Most Polish howitzers were captured by the Germans, many in operable or repairable condition (Polish troops often left them without breeches and sights). The Germans designated them as 15,5 cm sFH 17(p) and employed for secondary combat duties, like coastal defence. Among others, at least 34 howitzers were used in eight coastal batteries in occupied Norway[6].
Starting from October 1940, the Germans sold 166 howitzers mle 17 to Finland, where they were designated 155 H/17. It may be assumed, that among ex-French howitzers designated 15,5 cm sFH 414(f), there were also ex-Polish sFH 17(p). They were used against the Soviet Union during the Continuation War (1941-1944), and remained in use for training until the 1980s.
You can read more about 155 H/17 guns on a friendly Jaeger Platoon site.
111 howitzers 155 mm were captured by the Soviet Army, which invaded eastern Poland as German ally on 17 September 1939[6].
---
Specifications and description
Caliber:
155 mm
Range, maximum:
11 200 m
Range, practical:
8 000 m
Elevation:
0 +42°2'
Traverse:
6°
Muzzle velocity:
450 m/s
Shell weight:
43.4 kg (average)
Rifling:
48 groves
constant: 7°
Max. rate of fire:
3 rounds/min
Crew:
9
Length (combat position):
5850 mm
Barrel length:
2332 mm (L/15)
Rifling length:
1737 mm
Width:
1881 mm
Track width:
1520 mm (wheels' centres)
Wheels' diameter:
1330 mm
Rim's width:
140 mm
Combat weight:
3300 kg
Transport weight:
3720 kg
Limber's weight:
420 kg
Barrel weight (without breech):
1160 kg
Breech weight:
85 kg
Wheel weight:
134 kg
155 mm howitzer wz.17 with a gun team (Warsaw, 3. 5. 1939).
The wz. 1917 howitzer had a box trail with a central opening, enabling high elevation. On the upper side of the box trail there was a locker. The barrel was aligned with the trail, and had only limited traverse on an axletree (3° to each side, obtained through shifting a gun bed on the axletree). To change direction, the trail had to be lifted and turned by the crew, with a help of a folding T-shaped aiming shaft, above the spade. A breech was of screw type.
155 mm howitzers were towed by eight horses, using a limber put under a tail (a lower spade was folding forward in this purpose). In a transport position, the barrel was withdrawn to a rear of the craddle (the muzzle was aligned with the shield then), and the craddle was locked with the gunbed. The gun had lever brakes acting towards wheel rims, operated with a crank sticking out of the protective shield.
The crew were 9 men (the commander, the layer, the breech operator, the loader, the ammunition keeper/fuse setter, two ammunition bearers and two helpers). Maximum rate of fire, for a short time, was 3 rounds/minute. Normal rate of fire was ¾ rounds/minute (45 rounds/hour).
A point of quick indentification among other Polish artillery pieces with Schneider gunbed is curved shield, covering wheels. Similar shield, more gently curved, had Russian and Soviet M.1909 and M.1909/30 howitzers and Polish 120 mm wz.78/09/31 cannons, sharing the same gunbed – but most striking difference is strengthening muzzle collar and rectangular counterbalance above the breech in wz. 1917 (mle 1917) howitzer. Other details typical for wz. 1917 howitzer were: a hood above the barrel on the inside of the shield, and gunsights window in the shield opening to a side (in M.1909-based guns: opening downwards). Besides, 120 mm cannons had longer barrel.
HE grenades in late 1930s Polish colours. A body colour meant steel type, a head colour meant explosive type: yellow - TNT, green - melinite, yellow with red base - schneiderite. Earlier French colours slightly differed. Shrapnells (not pictured) had red head and black body.
Ammunition used in Poland:[5]
Round
average weight without a fuze
explosive weight
HE grenade wz.1914 (steel)
42.8 kg (from 41.55 to 44.05 kg)
10.35 kg
HE grenade wz.1915 (cast steel)
43.4 kg (from 42.15 to 44.65 kg)
4.65 kg
HE grenade wz.1915B (steel)
42.9 kg (from 41.65 to 44.15 kg)
7.25 kg
Shrapnell wz.1879-1915 [4]
40.59 kg (with a fuze)
0.45 kg black powder (270 25g-balls)
Ammunition was of a split type, a propellant was in bags (there were three kinds of powder used in Poland). There were seven charges, which could be deducted to produce weaker loads, to change impact angle. Normal load was 1, weaker were 2 to 5. Stronger loads, available with only one kind of powder (BG5), were 0 and 00. The strongest load 00 was used to fire at maximum range and could not be used to fire closer, than 8 km. Only part of cast steel grenades wz. 1915 (marked with a red band, later: a black band) could be used with charge 00. Charge weight ranged from 0.82 kg (no.5) to 3.54 kg (no.00). The grenades could have been filled with different explosives (TNT, melinite /picric acid/, schneiderite /amatol/). A calculated unit of fire in 1939 contained 18 grenades wz.1914 and 6 grenades wz.1915. Apparently shrapnells were withdrawn by late 1930s from Polish use (newer manual from 1938 do not mention them).
There were no special caissons used in Poland for heavy artillery; their ammunition was carried in horse wagons - there should be 28 wagons with 7 rounds each per a four-gun battery, which gives 7 wagons with 49 rounds per gun (approximately two calculated units of fire - 24). A special caisson for 12 rounds, which would allow to shorten artillery columns, was only undertrials before the war.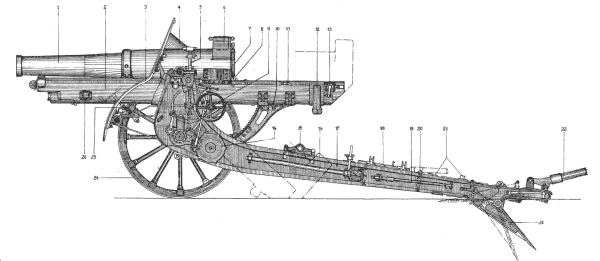 A cross-section of 155 mm wz.1917 howitzer from military manual.
The only known case of Polish artillery motorized by agricultural tractor, the 155 mm wz.17 howitzer with military Bolinder-Munktell AK tractor, probably from reserve centre in Góra Kalwaria.
---
Sources:

1. Andrzej Konstankiewicz: Broń strzelecka i sprzęt artyleryjski formacji polskich i Wojska Polskiego w latach 1914-1939, Lublin, 2003, ISBN 83-227-1944-2
2. Konrad Nowicki: Artyleria polska oczami jej dowódcy, "Poligon" nr. 3(27)/2012
3. Józef Pyrek: Sprzęt i amunicja artyleryjska - działoczyny, Włodzimierz, 1938
4. Regulamin artylerji ciężkiej. Część IIb. Opis i utrzymywanie sprzętu i amunicji 155 mm haubicy wz. 1917, A.6/1929 IIb, Warsaw 1930
5. Poprawki i uzupełnienia do regulaminu artylerii ciężkiej A.6/1929 IIb. 'Opis i utrzymywanie sprzętu i amunicji 155 mm haubicy wz. 1917', Warsaw 1938
6. Adam Kurus, Paweł Janicki: Haubica 155 mm wz. 1917, series: "Wielki Leksykon Uzbrojenia Wrzesień 1939", vol.27, Warsaw, 2014
---
[ Home page ] [ Polish artillery ] [ Polish armour ] [ Polish armoured trains ] [ Polish armoured units ] [ Steel Panthers page ] Michał Derela, 2013


You can mail me with questions or comments.
All photos and pictures remain the property of their owners. They are published in non-commercial educational and research purpose.
Text copyright to Michal Derela © 2019.