Polish C4P tractor / wz.34 halftrack
Color drawings

This page is a supplement to the C4P artillery tractor / wz.34 halftrack car page.
The author of all drawings is Adam Jońca, taken from: A. Jońca, R. Szubański, J. Tarczyński: "Wrzesień 1939 - Pojazdy Wojska Polskiego - Barwa i broń"; WKL; Warsaw 1990.
---
The wz. 34 halftrack in a basic truck variant.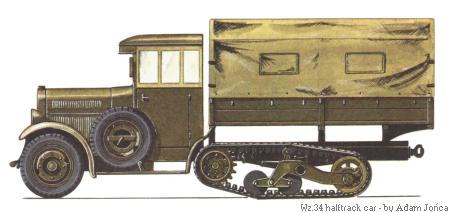 ---
Late series C4P field artillery tractor with a long platform (for a light artillery).
---
The wz.34 ambulance.
---
The wz.34 halftrack workshop car in a typical three color camouflage (greyish-sand and dark brown over brown-green).
Back to the wz. 34 halftrack / C4P tractor page
---
---
[ Main page ] [ Polish armour ] [ Polish armoured units ] [ Steel Panthers ] [ Links ]

All the photos and pictures remain the property of their owners. They are published in non-commercial educational and research purpose.