German armoured train Panzerzug 11 (Panzerzug 10b) – the gallery
---
This page is a supplement to the history of the Polish armoured train Nr. 51 "Pierwszy Marszałek". It contains additional photo material depicting former Polish wagons, captured in 1941 by the Germans and used in the armoured train Panzerzug 10b (Panzerzug 10 Kampfzug B), in August 1943 renamed to Panzerzug 11. See also pages on Panzerzug 21 and Panzerzug 22 trains.
Note: some photos can be enlarged. Links marked with: W are external, directing to Wikipedia articles.
---
Panzerzug 10b in late composition around 1942-1943. From the right: an artillery wagon of former "Pierwszy Marszalek", a new infantry and anti-aircraft wagon (former Soviet heavy artillery wagon), a spare tender, an armoured locomotive series Br.57, the second infantry and AA wagon (former Soviet light artillery wagon), the second artillery wagon of the "Pierwszy Marszalek" and a flatcar (a part of a flatcar is also seen on the right). The train had such composition between June 1942 and May 1944. [1]
On 22 September 1939, Polish armoured train Nr. 51 (former "Pierwszy Marszałek") was abandoned by the crew near Kovel W, after three weeks of combat, being cut off by Soviet units invading Polish eastern territories W and bombed by Soviet planes. The train was afterwards repaired, converted to a wide gauge (1524 mm), and put into Soviet service as the BP (Bronyepoyezd, bepo - armoured train) of the 77th NKVD Regiment from the 10th NKVD Division, otherwise known as the BP Nr. 77 (it belonged to the NKVD W internal forces, responsible among others for railway's protection, not to the Army). It retained its Polish armament of four 75 mm guns wz.02/26 and a 7.92 mm machine guns wz.08 Maxim (up to nine in each artillery wagon). It should be noted, that the train consisted of two former Soviet artillery wagons, of a standard type built in Krasnoye Sormovo plant in Nizhny Novgorod (Gorki) about 1919, during the Russian Civil War. They were captured by the Poles in 1920 and used afterwards in the Polish-Soviet war. By 1939, such wagons were completely extinct in the Soviet military (two more were later seized in Latvia). The Soviets probably didn't use the train's assault wagon, since a standard composition of Soviet armoured trains consisted of two artillery wagons only.
Photo apparently shows BP Nr.77 captured by the Germans. The trains lacks its Polish assault wagon. Note original Polish machine guns, including AAMG turret – the only Soviet change seems to be repainting an original three-colour camouflage with a single colour. A locomotive is probably original Nr.51 train's Ti3-2.
After German attack on the USSR, the BP Nr. 77 was captured by German units on 7 July 1941 in Kopyczynce W, south of Tarnopol W, following a several day combat. After repairs in Germany, the train was commissioned into German service by 1 December 1941. The Germans made an unusual decision to form one strong armoured train Nr. 10 - Eisenbahn Panzerzug 10 (PZ 10) of two armoured trains captured on the Soviets. Peculiar thing was, that both of them were originally Polish trains. Although the new train was treated as one military unit, it consisted of two independent parts: Kampfzug A (Panzerzug 10a, or Kampfzug I; former Polish train Nr.53 "Smialy", in the Soviet service BP of the 75 NKVD Rgt) and Kampfzug B (Panzerzug 10b, or Kampfzug II; former Polish train Nr.51 "Pierwszy Marszalek"; BP of the 77 NKVD Rgt). The commander of the whole unit was Hauptmann Ernst Naumann, and since 19 March 1942: Haupt. Paul Berger.
The subject of this page is Panzerzug 10b (Kampfzug B) only. Its initial composition, since November 1941 till May 1942, was:
two artillery wagons Krasnoye Sormovo type of Soviet origin, from Polish train Nr.51 ("Pierwszy Marszałek"), armed with 2 x 75mm guns and several non-fixed MG's each,


Polish armoured locomotive series Ti3 - Ti3-9 from former train Nr.53 "Smialy" (German series Br.546),


probably a wagon with a single 20 mm FlaK anti-aircraft gun (the details are not known),


two flatcars to protect the train against mines and carry engineering material.
The train's main armament were original four 75 mm guns wz. 02/26, designated 7,5 cm FK.02/26(p) by the Germans. The Germans removed Polish nine 7.92 mm wz. 08 Maxim (original German MG08) heavy machine guns and replaced them with non-fixed light machine guns. According to official data, the train also had one 20mm AA-gun, but the details are not known.
The composition of Panzerzug 10b did not include a former assault wagon of Nr. 51 train, which was captured as well and used from July 1941 in the German improvised track protection train of the 221st Protection Division (Sich.Div.; later the 707th Infantry Division), demobilized in summer of 1942 in Rembertow base[1].
As of February 1942, the crew of Kampfzug B were 2 officers, 13 NCO and 62 soldiers, and they were armed with 19 light machine guns, 31 rifles, 4 SMG's and 46 pistols (the crew of the whole Panzerzug 10, with auxiliary and command sections, were 9 officers, 49 NCO and 158 soldiers).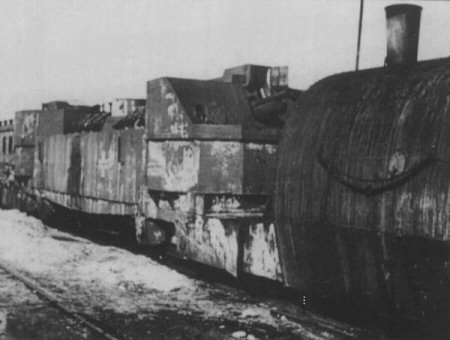 A shooting sequence of a 75 mm gun in the PZ 10b (about 1942/43) [5] →

← The artillery wagon of former "Pierwszy Marszałek" armoured train, with German cross on the side, in Panzerzug 10b, in 1941-42. Ex-Polish armoured locomotive Ti3-9 is visible (note chains of unknown purpose, typical for this peculiar locomotive). [1]
After completing and training of the crew, the whole Panzerzug 10 was ready for action on 2 February 1942 and moved to the Eastern Front, included into the Army Group South. The train came into action initially as a wide-gauge one (a gauge of 1524 mm). After arrival, Kampfzug A was sent to repairs, while a part of Kampfzug B was subordinated to the 2nd Army and sent for an anti-partisan operation code name "Michael" in the area of Lgov W.
| | |
| --- | --- |
| A mixed armoured train with components of PZ 10b in action against partisans near Lgov, February 1942. Both artillery wagons of PZ 10b are visible (some spar is sticking out of a machine gun loop-hole). A low-profile infantry wagon on the right has been borrowed from PZ 28 train, the locomotive (not protected?) came from other train as well. [1] | |
Both artillery wagons of former Nr.51 "Pierwszy Marszałek" in the Panzerzug 10b, about 1941-42.
In March 1942 the Panzerzug 10b came to Kharkov W, where it joined the PZ 10a. Both trains were stationed in Kharkov until 23 April 1942. Because all the railway on the captured areas had been converted to the standard gauge of 1435 mm by that time, the trains were reconverted to the standard gauge in Belgorod W (or Kharkov) workshops in July. Both trains operated in the area of Belgorod until July 1942, fulfilling the occupation and anti-partisan service in Ukraine, and undergoing several air attacks.
| | |
| --- | --- |
| | The artillery wagon of Panzerzug 10b, 1941-42. Armour screens protecting couplings were added by the Germans. Original cylindrical HMG mountings on the side are visible. [4] |
| | The same scene, as above. [1] |
Interesting view of the roof of the artillery wagon of former "Pierwszy Marszalek", Kharkov, 1942. On the foreground, former anti-aircraft MG turret is visible, now: observation turret with a binocular periscope inside (the Germans removed all Polish machine guns). The anti-aircraft MG turret and its pedestal were Polish modification of original wagons. The artillery turret is turned towards the camera (it isn't clear, if the gun is mounted). The hole on the left is a MG port. The construction of "Krasnoye Sormovo"-type armoured wagon's roof is clearly visible - significant pairs of rims protected ventilation hatches between them. [1]
| | |
| --- | --- |
| | A flatcar of Kampfzug B derailed by Soviet partisans, before June 1942 (visible are cylindrical MG mountings). Note rails and sleepers on the flatcar. [1] (click to enlarge) |
---
In June 1942 the train was strengthened and modified. The locomotive was changed to a standard German armoured locomotive 57 1064 of the series (Br) 5710-35 (former Prussian series G10). The locomotive, however, used less typical, early pattern of armour, applied in Kharkov workshops - on a photo above [1]
The train received two additional armoured infantry wagons. They were similar, four-axle, captured on the Soviets and rebuilt by the Germans, with artillery turrets removed (originally they were: heavy artillery wagon of the Soviet PT-33 (or earlier) type, with single 107 mm gun, and light artillery wagon with two 76 mm guns, probably PL-35 or PL-37 type; both wagons of the standard pre-war BP-35 type train). Each of them was armed in German service with a single 20 mm (2 cm) FlaK 38 AA-gun above one of wagon's ends, in former barbette. The train was also fitted with auxiliary tender. Armoured wagons received additional heaters, and cylindrical mountings for machine guns were eventually replaced with simple loop-holes (for MG-13 or MG-34 LMG's or rifles). See the new composition also on a title photo.
| | |
| --- | --- |
| | Interesting view of the PZ 10b artillery wagon, possibly during winter 1942/43. A Flak barrel is visible upon the infantry and AA wagon on the right. [5] |
In November 1942 both parts of the PZ 10 were moved towards the front, to the outside of Stalingrad pocket. On November 23 they were assigned to the Army Group Don. They took part in several skirmishes and artillery duels, among other in recapture of Tatsinskaya on 28 December 1942 (with PZ 28), after the Soviet raid W. After the defeat in Stalingrad in January 1943, the trains were protecting a retreat of German units in the Donets W basin, with the Army Group South. During the whole spring the trains were used in combat, and PZ 10b suffered some losses in crew and damages to the equipment. On June 1 both PZ 10 trains were moved to Western Ukraine: to Kovel W - Sarny W - Kiev W area to anti-partisan duties (it is noteworthy, that the Polish train Nr.51 operated in Kovel - Sarny area in 1939 against the Red Army). On 13 June 1943 the Kampfzug B was heavily damaged by a mine, and the repairs lasted about month.
The artillery wagon of Kampfzug B in a winter camouflage, winter 1943. Polish cylindrical side HMG mountings have been replaced with simple loop-holes for German LMG's. Note a machine gun in a turret. [?/1]
Captured Soviet armoured draisine DTR, used for a reconnaissance in the PZ 10b. [1]

On 31 July 1943 the Panzerzug 10 was split into two separate units: Kampfzug A remained Panzerzug 10, while Kampfzug B was renamed Panzerzug 11. On August 11, the PZ 11 was moved to the front again. During following months, it was used in heavy retreat fighting in Eastern Ukraine, in Dnepropetrovsk W area, in Army Group South. Among others, it drove back Soviet tanks attack on the line from Lyubotyn W to Poltava in August. In September the train defended a bridghead over the Dnepr, near Dnepropetrovsk. On 19 October it was damaged in a heavy fighting near Piatykhatky W. On 17 November, after repairs, it returned to frontline service in the Znamenka, then Bobrinskaya (Bobrinets?) area. In December it took part in retreat fighting in that area and was withdrawn to Western Ukraine - on 21 December to Rovne W, then in January 1944 to Zdolbunov and in February to Dubno W. It next patrolled and fought against partisans on Krasne Brody - Dubno line. During next Soviet offensive, the train broke through towards Tarnopol on 6 March, along with PZ 69.

In the first half of 1944 the train underwent further modernization and repair in Lviv workshops. It most likely received two anti-tank wagons (Panzerjaegerwagen), armed with a 75 mm (7.5 cm) KwK 40 AT-gun in PzKpfw IV tank turret, and two flatcars (Panzertraegerwagen) carrying light tanks PzKpfw 38(t) (armed with 37 mm guns). The single 20 mm AA guns FlaK 38 were probably replaced with quadruple guns 20 mm Flakvierling 38. The crew were 6 officers, 25 NCO's and 90 soldiers then. During all the service the train had also armoured scout draisines assigned: captured Soviet ones (on a photo on the right - DTR type one), or armoured cars Panhard 204(f) riding on rails.

In summer of 1944, two heavy armoured motor rail cars (Panzertriebwagen) PT 16 and PT 18, armed with two guns 76,2 mm FK 295/1(r) each, were subordinated to PZ 11 (PT 18 was of the Soviet MBV D-2 type). At that time they operated in the Army Group North Ukraine (former AG South). On July 17 they were moved north to the front and then broke through a Soviet encirclement near Rava Russka W and withdrew to current Poland's territory. The train suffered losses in a battle near Zamosc W. Next, between 20 and 22 July, they were used in a defence of Lublin W. After Lublin had fell, the train (along with PT 16 and PT 18) broke through an encirclement again on 24 July, losing one wagon and a locomotive, replaced with another one (not armoured?). On 27 and 28 July it suffered losses defending the crossing of the San W river at Rozwadów W, then it was withdrawn farther to Dębica and to Cracov for repairs.

In the end of 1944 the train was operating in south-eastern Poland (in Kielce W - Miechów W - Radom area) in the Army Group A and was stationed at Kielce, still with the PT 16 and PT 18. On 12 January 1945 the great Soviet offensive started in that area. Finally, the Panzerzug 11, former Polish "Pierwszy Marszałek" ended its combat career on 13 January 1945 near Chęciny W (small town south of Kielce, with famous royal castle ruins). Probably the train was abandoned by its crew, when it could not retreat because of a destroyed bridge on the Nida W river[3] (along with the PZ 25 train). The PT 18 was destroyed in Kielce on January 16, while the PT 16 managed to get away (its story will be a subject of other page).
| | |
| --- | --- |
| Panzerzug 11 near Tarnopol (Ternopil, Ukraine), March 1944. The train received evident camouflage (unfortunately, this is the last photo of the train known so far). [1] | |
---

All corrections and additional information or pictures are welcome!


---
Sources:
1. Wolfgang Sawodny: "Die Panzerzüge des Deutschen Reiches 1904-1945"; EK-Verlag, Freiburg, ISBN 3-88255-678-1
2. Janusz Magnuski: "Pociag pancerny 'Śmiały' w trzech wojnach"; Pelta; Warsaw 1996
3. Janusz Magnuski: "Panzertriebwagen nr 16"; "Militaria" vol.1 nr.1
4. H. & W. Trojca: "Panzerzüge 1 - Pociagi pancerne cz.1"; Militaria, Warsaw 1995
5. Wolfgang Sawodny: "German Armored Trains on the Russian Front 1941-1944"; Schiffer 2003

---
[ Main page ] [ Polish armour / Polish armoured trains ] [ Polish armoured units ] [ Steel Panthers page ] [ Links ]

You can mail me with any comments or additional infomation.

All the photos remain the property of their owners. They are published in non-commercial educational and research purpose.