History:
Poland was a major foreign user of halftracks constructed by French designer Adolph Kegresse. Usually they are ignored, when speaking about Polish Army 1939 vehicles, while in fact they were not less common, than their Polish "younger brothers" - C4P tractors. CitroŽn-Kegresse halftracks served in Polish motorized artillery during the whole 1930s. Unfortunately, the quality of the photos available is very poor.
---
Adolphe Kegresse was a pioneer of a half-track drive in the world. He was the chief of Russian Tsar's garages, and since 1909 he has been developing a half-tracked mechanism for cars (one of his designs was Austin-Kegresse armoured car). After the Bolshevik Revolution in 1917 he left back for France, and than he has been developing a long series of half-track cars there. Of course, French Army was interested in these vehicles from the beginning. The most popular military designs by Kegresse were half-tracked tractors and "cavalry cars", but the half-tracked armoured cars were also developed (more on wz.28 car page). The latest and most popular French artillery tractor with Kegresse drive was UNIC P107, used also by the Germans after 1940.
CitroŽn-Kegresse B2 10CV
The first French project of Kegresse was the half-track mechanism for CitroŽn B2 /10CV touring car in 1921, made famous for cross-Sahara desert rally in 1922/23 and a journey across Africa in 1924/25 ("Croisiere Noire").
Polish Army was watching French experiences with attention. The halftrack seemed to be a perfect solution for poor country roads, which were numerous, especially in the East of Poland at that time. After trials, in 1923 Polish government decided to buy a number of such vehicles.
In 1924-25 years 108 of half-tracked chassises CitroŽn-Kegresse B2 10CV with Kegresse P4T tracked mechanism were bought (the designation B10 is probably wrong). Soon that number was increased to 135 chassises. The Army decided to use 90 chassises to build armoured cars wz.28, the rest were to be build as trucks or special cars. Many chassises remained without bodies at all. Apart from these chassises, a small number of passenger staff cars and special vehicles for transporting of the AA-searchlights were bought.
CitroŽn-Kegresse P14, P17, P19
In early 1931 an agreement on the next batch of French military loan was signed. France agreed to deliver to Poland 94 halftracks CitroŽn-Kegresse in similar models: C6 P14, C4 P17 and C6 P19 (C4 and C6 are CitroŽn models' designations, P14, P17 and P19 are Kegresse tracked mechanism developments' designations). The cars were to be delivered between May 1931 - December 1933 in variants of artillery tractors, staff cars and telephone cars. They were the newer designs of Kegresse with collaboration of M. Hinstine, differing from the previous ones. The civilian variants of these vehicles were advertised well by a long journey through Asia in 1931-32 years ("Croisiere Jaune").
---
A drawing of CitroŽn-Kegresse halftracks in comparision to Polish wz.34 halftracks (though on this drawing and the drawing above, C-K B2 seems to have too small sprocket and especially idler wheels).
---
Variants:
CitroŽn-Kegresse B2:
In Poland, CitroŽn-Kegresse B2 10CV cars first of all were used as 4-seater off-road staff cars, with the original CitroŽn's "torpedo"-type open body with a canvas roof.

Also a light truck variant was used, with an open drivers' cab and a wooden platform to the rear (a photo on the right; during an exercises of the Cavalry Reserve Officers School on a cooperation with armoured cars, Įurawica, 1930). It isn't sure, if these cars were the original French ones, or if they got a truck bodies in Poland.

Special variants existed as well for towing (or carrying?) the AA-searchlights and carrying their power generators. These cars had tall bodies with a closed cab. To the rear they had a transport compartment covered with a roof, but lacking side and rear walls.
There were also few (2?) cars equipped in Poland with a baloon winch. Only one prototype existed of Polish-built radio van, with a tall closed body. Some of the chassises remained without bodies at all.
---
CitroŽn-Kegresse P14, P17, P19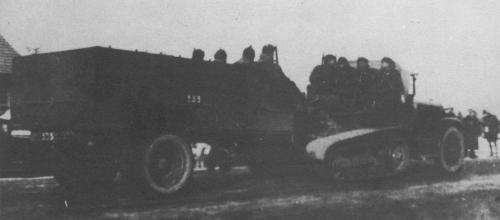 All variants had open bodies.
The C-K P14 was a tractor for heavy howitzers: 120mm and 155mm. Behind the driver's cab there was a transversal bench for four crewmen, sitting backwards. A canvas roof could be raised over the driver's cab. On a photo: the P14 with an ammunition trailer.
The C-K P17 was used in a few variants. The basic one was an artillery tractor for 75mm guns. In this variant, behind the driver's cab there was a wide transversal box, behind it was a platform with two benches on the sides, each for three crewmen. It seems, that there also was a variant with a transversal bench behind the cab, for three crewmen sitting backwards (possibly an earlier one).

The C-K P17 was also used as a telephone patrol's car (a photo on the right). Its body was similar to the tractor, with crew seats behind the driver's cab, but in the back of the platform it had a telephone equipment: drums with a wire, jibs for wire-laying etc. These cars' task was to establish and maintain the cable field communication in motorized artillery.
There was also a variant with a platform, used among others for towing of the AA-searchlights (it had a cable drum on the platform then). Probably a part of artillery tractors and telephone cars were rebuilt to this variant in the late thirties as well. Such were also the cars of the repair patrols.
The last variant of C-K P17 was a staff car. Most likely it had similar open "torpedo" type body, as the C-K P19.
The C-K P19 was a "dragoon car" in the French Army, used for carrying an motorized cavalry (Dragons Portes) in Light Cavalry Divisions (DLC). In Poland it existed in a variant of a staff car, with 6-seater open "torpedo" type body, with a folding canvas roof (on the photo).

---
Use:
CitroŽn-Kegresse B2:
Most of CitroŽn-Kegresse B2 cars were delivered to Poland as sole chassises without bodies (at least 134). Surely the most well-known usage of these chassises was building the half-tracked armoured cars wz. 28 upon 90 of them, rebuilt later into the wheeled wz. 34 cars. The remaining chassises were kept as a mobilization reserve for a future usage. It isn't known, if they were fitted with bodies eventually. In 1936 the Polish Army still had 40 such chassises. Yet in 1937 they were present in armoured battalions' statistisc, however their future fate and possible usage aren't known.

In armoured units a small number of original halftrack staff cars CitroŽn-Kegresse B2 were used in the twenties and early thirties. The cars with truck bodies were also used that way. In the late thirties these cars were replaced with Polish standard trucks and "£azik" field cars (PF-508/III and PF-518). There is no information about their possible further usage, however most of these cars should survive until 1939.
The cars of the 1st AC Unit (Battalion) in Brzesc upon the Bug, 1930 or 1932. The leading car is a staff car CitroŽn-Kegresse B2, followed by the platoons of the wz. 28 and Peugeot armoured cars.
Special variants of CitroŽn-Kegresse B2 were used in the Electrotechnical Battalion in Nowy Dwor Mazowiecki for transport of the anti-aircraft searchlights and their power generators. According to source [1], they were used in 1939 (along with C-K P17?).
In baloon battalions a small number (2?) of baloon winches upon C-K B2 chassises were used, but there's no further information about them.
---
CitroŽn-Kegresse P14, P17, P19
According to the 1931 agreement, 54 halftracks CitroŽn-Kegresse were delivered in different variants for the motorized artillery and further 40 for electrotechnical units.
Artillery CitroŽn-Kegresse halftracks were employed in the 1st Motorized Artillery Regiment (pu≥k artylerii motorowej - 1. pamot) in Stryj (now in Ukraine). The 1. pamot was created in 1931 from the 1st Mountain Artillery Regiment. The C-K vehicles used there were: P17 tractors for 75mm wz.97 (Schneider) field guns, P14 tractors for heavier 120mm wz.78/09/31 (Schneider) and 155mm wz.17 (Schneider) howitzers, P17 telephone cars and P17 and P19 staff cars. The tractors P14 were also towing heavy ammunition trailers. Contrary to the C4P tractors, the C-K tractors didn't tow 100mm wz.14/19P howitzers rather. In 1936 in the 1.pamot there were 57 C-K halftracks: 10 tractors P14, 18 tractors P17, 18 telephone cars P17, 4 staff P17 and 7 staff P19 cars.
In the thirties a light motorized artillery battery (four guns 75mm) had 17 CitroŽns-Kegresse: 1 staff P19 for the battery HQ, 1 staff P17 for the fire officer, 5 telephone cars P17, 8 tractors P17 (4 for the guns and 4 for the caissons) and 2 trucks P17 for a repair patrol. Apart from these, the battery had 2 trucks Ursus A (kitchen and office ones), a tanker and 3 scout motorcycles.
All guns of the motorized artillery got rubber tyres from about 1937. Earlier they were used with original steel and woden wheels, which limited maximum speed to about 7 km/h; or with rubber-wheeled "roller-skates" put under the guns' wheels.
The "roller-skates" weren't satisfactory, however, and they failed in off-road riding. In early thirties P17 tractors were usually towing 75mm on a two-wheeled "roller-skates", without limbers (a title photo). Later the guns were fitted with the tyres and being towed with limbers (on the right: a parade in 1937 r., P17 tractor. Poorly visible are benches on the platform's sides and a canvas rolled upon the box behind the driver's cab).
Since 1936 roku C-K cars and tractors of the 1st pamot started to be gradually replaced by Polish-built tractors C4P and standard field- and telephone cars (Polski FIAT-508 III £azik, PF-518 £azik and PF-508/518). However, in July 1939 in the 1st pamot there were still 38 C-K cars in all variants. The cars withdrawn from the 1st pamot were given to the Electrotechnical Battalion.
---
During the mobilization in 1939 the 1st Mot. Artillery Rgt created three Motorized Artillery Battalions (dywizjon artylerii motorowej - dam). Two of them were light artillery battalions, assigned to Polish two motorized brigades. Each Battalion had two four-gun batteries. The 16th dam created for the 10th Cavalry Brigade (10.BK) received the newest equipment: C4P tractors with 4x 100mm howitzers and 4x 75mm field guns. However, CitroŽn-Kegresse tractors were used in the 2. dam, mobilized for the Warsaw Armoured-Motorized Brigade (WBP-M), equipped with 8x 75mm guns. The 2nd Mot. Arty Bttn took part in the combats of the WBP-M in September 1939.

Most probably the 2. dam was equipped with 7 tractors P14 and 10 tractors P17. They were towing eight 75mm wz.97 (Schneider) guns with limbers and their caissons, all with rubber tyres. Probably this unit had also 9 telephone cars P17, 4 field cars P17 and 6 staff cars P19, partially instead of standard Polish-produced field- and telephone cars.
The third mobilized motorized artillery unit was the 6. dam - the 6th Mot. Arty Bttn for "£ůdľ" (Lodz) Army. It was a heavy artillery unit, with three batteries of old 120mm wz.78/09/31 howitzers (3 guns each?). According to source [1] this unit had CitroŽn-Kegresse P14 tractors, however I suspect, that most or all tractors of the 6.dam were C4P. Possibly also other variants of C-K cars were used in this unit. The 155mm wz.17 (Schneider) howitzers were tested in motorized artillery before the war only, both with "rollerskates" and with rubber tyres.
---
The second major user of CitroŽn-Kegresse halftracks was the Electrotechnical Battalion in Nowy Dwůr Mazowiecki near Warsaw. They were used there for towing of anti-aircraft searchlights and their power generators. In 1939 the Battalion formed, among others, three AA-searchlight companies for Warsaw Defence HQ. CitroŽns-Kegresse P17 halftracks were used in the 11th and 17th companies (the 14th company had C4P tractors).
[On the right:] C-K P17 tractors towing AA-searchlights.
---
Apart from Warsaw, only Gdynia had its own independent motorized company of AA-searchlights. This company was equipped with CitroŽn-Kegresse P17 tractors as well. Unexpectedly they took part in combat more actively, because at the outbreak of the war they were given as artillery tractors to the Naval Light Artillery Battalion, subordinated to the Land Coastal Defence HQ. Just before the war the Battalion received a number of 75mm guns (in fact, it had to complete them from parts of different depots on its own), without limbers, caissons and tractors. It took part in the defence of Polish coast.
---